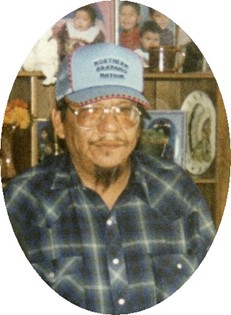 Charles "Jake" Geboe Sr.
Apr 29, 1947 - Nov 10, 2009
Funeral Mass for Charles "Jake" Geboe, Sr., will be at 10 a.m. Saturday, Nov. 14, at St. Stephen's Catholic Church with the Rev. Father Dan Gannon officiating. Interment will be in the Arapaho Catholic Cemetery at St. Stephens. There will be a rosary at 7:30 p.m. on Friday, Nov. 13, at Great Plains Hall at Arapahoe with a wake following at the family home, 314 Great Plains Road, Arapaho. Mr. Geboe died at Riverton Memorial Hospital Tuesday night, Nov. 10, 2009, following a motor vehicle accident. He was 62. Charles Geboe was born at Fort Washakie on April 29, 1947, the son of Robert C. Geboe, Sr., and Emily (Whiteplume) Geboe. He worked most of his life as a ranch hand, primarily for the Arapaho Ranch at Thermopolis. He started working at the Arapaho Ranch at the age of 15 and retired, due to ill health, in 2001. He married Carla Oldman in Riverton on July 11, 1969. Mr. Geboe was a member of St. Stephen's Catholic Church. His family said he enjoyed hunting, fishing, going to the casino, going to auctions, and spending time with his grandchildren. Survivors include his wife, Carla Geboe of Arapahoe; sons, Charles Geboe, Jr., Dominic Geboe, Sr., Gary Oldman, Sr., Jerome Oldman, Jr., Thomas Oldman, and Duane Oldman; daughters, Dawn Goggles, Denise Oldman, and Roberta F. Behan; step-children, Claudotte Blackhawk, Dorma Take Enemy, Elna Blackhawk, Ferol Blackhawk, Vince Blackhawk, and Marlin Cloud; numerous grandchildren and 11 great grandchildren; a brother, Cecil Walker, and a sister, Thelma Dewey. He was preceded in death by his parents; a brother, Robert Geboe, Jr.; daughter, Viola Geboe; grandmother, Pauline C'Hair; granddaughter, Megan Dewey; nephews, Paul, Phillip and Patrick Dewey. On-line obituaries are available and condolences for the family may be made at: thedavisfuneralhome.com Services are under the direction of the Davis Funeral Home of Riverton.