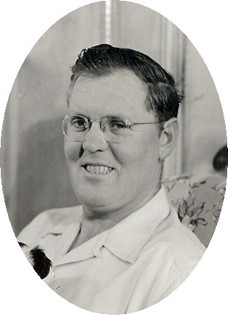 Kenneth E. Hamilton
Jan 7, 1916 - Dec 15, 2009
Recent Riverton resident Kenneth E. Hamilton of Largo, Fla., died at Woodside Hospice Home in Pinellas Park, Fla. on Tuesday, Dec. 15, 2009, at the age of 93.

Kenneth Earl Hamilton was born in Colwyn County, Del., on Jan. 7, 1916, the son of George and Cora (Mickle) Hamilton.

As a child he lived in Ambler, Penn., in a castle owned by Dr. Richard Mattison, an inventor and owner of the Keasby Mattison Company. Dr. Mattison was the creator of asbestos and many other things.

Mr. Hamilton married Julia May Buchanan on Jan. 31, 1942, in Claymont, Delaware.

He was a member of the Riverton Congregation of Jehovah's Witnesses.

His family said Mr. Hamilton was a pilot of small Cessna airplanes for many years and loved to fly. He last piloted a flight over the Wind River mountain range in 1980.

As a younger man, his family said he loved to ice skate. They said he enjoyed the outdoors of Wyoming where he loved horses, fishing, and traveling with this wife, Julia. The couple often packed a picnic lunch and spent a day driving and exploring the state of Wyoming.

On Dec. 5, 2009, Mr. Hamilton flew for the last time to Largo, Fla., to be with his daughter and grandchildren, following the death of Julia, his wife of 68 years, on Nov. 26, 2009.

Mr. Hamilton held a variety of jobs. His family said he loved to work his with hands and create things, including beautiful woodwork. His grandchildren have very fond memories of the things he made them including the soapbox derby cars they raced down hills, toboggans for sledding, and boats for floating the creeks.

Mr. and Mrs. Hamilton had moved to Casper from Pennsylvania in 1973 and then came to Riverton in 1993.

Survivors include his daughter, Dottie M. Villegas and husband Gilbert of Largo, Fla.; three grandchildren, John Boorse of Largo, Debbie Warren and her husband Larry of Largo, and Karen Mendoza and her husband Pauncho of Gale, Colo.; 15 great grandchildren, and 17 great-great grandchildren.

He was preceded in death by his wife, Julia May Hamilton; brother, Wilbur; sister, Mildred, and one grandchild, Cindy Biggs.

On-line obituaries are available and condolences for the family may be made at: thedavisfuneralhome.com

Services are under the direction of the Davis Funeral Home of Riverton.