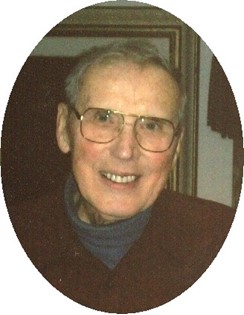 Dezi Halasz
Nov 2, 1927 - Jan 16, 2010
Funeral Mass of Dezi Halasz of Riverton will be at 10 a.m. Wednesday, Jan. 20, at St. Margaret's Catholic Church of Riverton with interment to follow at Mountain View Cemetery in Riverton.

Mr. Halasz died on Friday morning, Jan. 15, 2010, at the Help for Health Hospice Home in Riverton. He was 82.

Dezi Halasz was born in Papa, Hungary, on Nov. 2, 1927, the son of Dezso and Etelka (Csomas) Halasz.

He received his high school education in Papa, Hungary, and attended three years of art school there. As a young man, he served with the Hungarian Army.

On May 15, 1953, he married Edith Dobronte in Papa, Hungary. In November of 1956, on their son Desi's second birthday, they escaped during the Hungarian Revolution finding safety in Austria. Via a troop transport ship from Germany, they came to the United States' Camp Kilmer refugee camp in New Jersey. The Riverton Knights of Columbus sponsored the family to establish a home in Riverton.

Mr. Halasz was a professional artist who founded the Rainbow Sign Company and operated it for nearly 30 years. Mr. and Mrs. Halasz purchased the Paintbrush Motel in 1977 and they ran both businesses together until selling the motel in 1990.

Mr. Halasz was a member of St. Margaret's Catholic Church.

His family said he enjoyed landscape painting, woodworking, reading, Hungarian food, and organic gardening. Most of all, he loved spending time with his family.

Survivors include his wife, Edith Halasz of Riverton; a son, Desi Halasz and his wife Cindy of Casper and their children, Jessica Frost and husband Matt, Paul Halasz, Nick Sadler and wife Jen, and J.B. Sadler; a daughter, Judy Kinney and her husband Kort of Riverton and their children, Kort Kinney, Jr., Mandy Apodaca, and Britany Kinney; one great grandchild, Dahlia Rain Apodaca; a brother-in-law, Feri Dobronte and his wife Matild of Papa, Hungary.

He was preceded in death by his parents; two brothers, one sister, and his granddaughter's husband, Tyler Apodaca on Nov. 22, 2009.

Memorials may be made to the Help for Health Hospice Home, in care of the Davis Funeral Home, 2203 West Main, Riverton, WY 82501.

On-line obituaries are available and condolences for the family may be made at: thedavisfuneralhome.com

Services are under the direction of the Davis Funeral Home of Riverton.