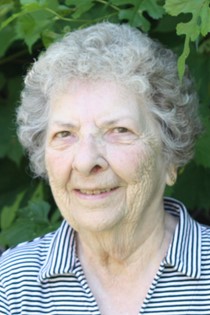 Peggy Forbis
Nov 26, 1924 - Feb 17, 2010
Peggy Forbis, 85, of Riverton died Wednesday morning, February 17, 2010 at her home in Riverton. Funeral services will be 1:00 p.m., Saturday, February 20, 2010 at the Davis Funeral Home. Burial will follow at Mountain View Cemetery. A Viewing will be Friday evening from 5:00 – 7:00 p.m. at the funeral home.

Celestial Mae "Peggy" O'Hara was born November 26, 1924 in Faith, South Dakota to James Micheal Leo and Attia Ellen (Gano) O'Hara. She grew up and lived in Faith for thirteen years and has lived in Riverton for the past 72 years. She attended schools in Faith and Riverton.

On February 7, 1944 she married Robert David Forbis in Lander, Wyoming. They had three children: Timothy Patrick, James Micheal, and Mary Michele.

Mrs. Forbis owned and operated "Peggy's Fabric Shop" on Federal Boulevard that many referred as "The Fabric Shop."

Her family said she enjoyed sewing, painting, playing cards, embroidery, knitting, spending time with her family, and her main love was reading.

She is survived by her husband Robert "Bob" David Forbis of 66 years; daughter, Mary Michele Forbis Schaeufele and husband John, M.D. of Ohio, sons, James Micheal Forbis and former wife Jan of Colorado, Timothy Patrick Forbis and wife Peggy of Riverton; sister, Colleen O'Hara Miller of Riverton; grandchildren; Heath and wife Lisa Riewe, Crystal Dunnigan, Tara and husband Allen DeQueiroz, Robin and husband Hernon Sosa, Tess and husband Matt Gallegos, Christopher and wife Tiffany Forbis, Micheal and wife Tammy Forbis, Jeremy and wife Shalini Forbis, Michelle and husband Bob Decker; great grandchildren, Trent, Caleigh, and Connor Riewe, Stephan Bunn, Angela and Ashley Dunnigan, Hanna Sosa, Samuel Gallegos, Ethan and Ellanie Forbis, Dillon and Zack Forbis, Savitha and Divia Forbis, Josh and Claire Decker; nieces and nephews, Sheri and Dick Hinkle, Kathi and Jim McDonald, Jack David and Ellen Miller, Lori and Dwayne Peterson.

She was preceded in death by her parents, and two brothers, Terrance and James O'Hara.

Memorials may be made to Little Wind Hospice in care of Davis Funeral Home, 2203 W. Main Street, Riverton, WY 82501.

On-line obituaries are available and condolences for the family may be made at: thedavisfuneralhome.com

Services are under the direction of the Davis Funeral Home of Riverton.