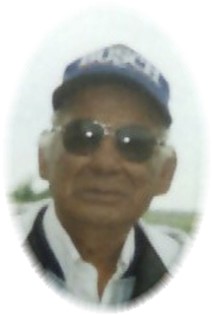 Leonard W. Amos
Nov 11, 1936 - Feb 27, 1936
Leonard W. Amos of Arapahoe, also known as "Grandpa Jones," died on Saturday, Feb. 27, 2010, at Riverton Memorial Hospital, following a sudden illness. He was 73.

Funeral services will be held at 10 a.m. on Friday, March 5, at Great Plains Hall at Arapahoe with the Reverend Tommy Means and Bishop Wendall Richardson officiating. Interment will be in the Tyler Cemetery at Ethete.

Prayer service will be at 7 p.m. Thursday, March 4, at Great Plains Hall with a wake to follow at the family home, 303 Left Hand Ditch Road, Arapahoe.

Leonard W. Amos was born in Ethete on Nov. 11, 1936, the son of Frank and Nellie (Tyler) Amos. He grew up in the Ethete area.

In 1964, the family moved to Idaho, where he worked in the potato field and warehouses. While in Idaho, he worked for Frank Kinghorn in Rigby, Brent Call in Lewisville, Hunter's Produce in Lewisville, and Bass and Hurley in Rigby.

His family moved back to Wyoming in 1974 and they made their home at Arapahoe. He then worked for Paul Hughes in Riverton and had worked as a custodian at Great Plains Hall in Arapahoe for many years. Mr. Amos also worked in construction as a laborer.

Mr. Amos was a member of the Memorial Club, member of the Community Pow-Wow, and the Easter Pow-Wow.

His family said he enjoyed playing Bingo at the V.F.W. Club, going to pow-wows, watching the St. Stephen's Eagles play basketball or listening to games on the radio, playing softball with the Bonsell Raiders, being with his family at cookouts, camping, hunting, and fishing.

His family said he was a strong believer in Native American Traditional Ways.

He is survived by three sisters, Nancy Dice of Arapahoe, Yvonne Amos of Riverton, and June Yellowman of Watonga, Okla.; nieces and nephews, Karen and Daniel C'Hair of Riverton, Harold Amos and Levina Brown of Arapahoe, Shannon Amos and Debbie Antelope of Ethete, Max Dice, Jr., and Sandra Edwards of Riverton, Mary and Anslem Lee of Lander, Peggy and Anna Loneman of Ethete, Alvena and Tim Burton of California, Jesse Amos of Salt Lake City, Utah, Ivan Yellowman and Arthur "Corky" Yellowman of Watonga, Okla., Gordon Yellowman of El Reno, Okla., Francis and Ruth Amos of Riv., Muriel and Paul Bell, Willimette and Tyrone Surrell, Charlene Yellowfox, Charles and Julian C'Hair, all of Riverton; members of the C'Hair family, Duran family, Norman and Sara Willow family, Alvena Friday family, Ada Wallowingbull family, Mary and David Valdez family, Jimmy and Ruby Blackburn family, John and Melody St. Clair and daughter, Rose C'Hair family, Maryanne Duran family, Loren Durgan family, Marion Coen and son Bob, Bucky Burnette family, Adal Croshaw, and Jay Peterson; 74 grandchildren, and 81 great grandchildren.

He was preceded in death by his parents, Frank Amos and Nellie Tyler Amos; sister, Verna L. Amos Loneman; brothers-in-law, Charlie Loneman and Everette Yellowman; daughter-in-law, Florine Amos; nephews, Vern Spoonhunter and Bobby Joe Spoonhunter; grandson, Charlie Augustine; granddaughter, June Augustine Benally; five great grandchildren; three brothers, and two sisters.

On-line obituaries are available and condolences for the family may be made at: thedavisfuneralhome.com

Services are under the direction of the Davis Funeral Home of Riverton.