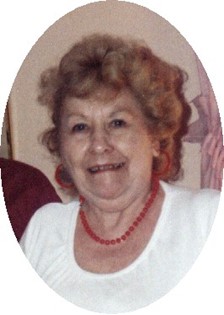 Marjorie M. Stewart
May 12, 1922 - Apr 14, 2010
Marjorie M. Stewart of Riverton died on Wednesday, April 14, 2010, at Wind River Healthcare in Riverton. She was 87.

Graveside funeral services will be at 3p.m. on Monday, April 19, at Mountain View Cemetery in Riverton. Pastor Mike Johnson of Saint John Lutheran Church will officiate.

Marjorie May Chapman was born on May 12, 1922, in Rochester, Penn., the daughter of Rolland and Ester Elma (Durr) Chapman and grew up in Rochester.

She married Carl Milton Stewart in Rochester on Aug. 9, 1946.

They lived in Bellvue, Penn., moved to Wexford, Penn., where they raised their family, moved to Butler, Penn., and came to Riverton 12 years ago to be close to family.

Mrs. Stewart was a member of the Riverton Auxiliary to the Veterans of Foreign Wars.

She worked for Bell Telephone Company before her marriage and then was a homemaker.

Her family said she enjoyed cooking, keeping house, and her family.

Survivors include her sons, Carl Stewart of Riverton, and Jeffrey Stewart and his wife Joann of Butler, Penn.; daughters, Carol Ann Walker of Chicora, Penn., and Beverly Jean Martin of Beaver Falls, Pennsylvania; brothers, Jerry Chapman of California,and Billy McPherson and close friend, Barbara Gramss of Riverton; grandchildren, Rick Torrence, Vicki Shaw, Jimmy, Sandra, Sharon, and Patrick Walker, Jeffrey Stewart, Jr., Jason Stewart, Jessica Stewart, Ken Stewart, Anthony C. Stewart, Cheryl Ann, Kendra D., and Christy D.; great grandchildren, Seth, Zachery, Jacob, David, Rebakah, Matthew, John, Dylan, Alisha, Allison, Aaron, Sara, Lindsey, Ty, Ryan, Trevor, Kole, Kirk, Skyelor, Tallon, Ashley, Allisa, Zachrey, Daniel, Mariah, Brittney, Stephanie, and Makayla.

She was preceded in death by her parents; her husband Carl on Aug. 27, 2002; and granddaughter, Patricia Walker.

On-line obituaries are available and condolences for the family may be made at: thedavisfuneralhome.com

Services are under the direction of the Davis Funeral Home of Riverton.