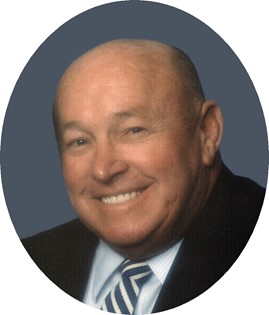 Daniel W. "Big Dan" Williams, Jr.
Jul 17, 1933 - Jun 30, 2010
Funeral services for "Big Dan" Williams of Riverton are at 2 p.m. Tuesday, July 6, at the Davis Funeral Home of Riverton with Dr. Richard Morgan of Calvary Baptist Church officiating.

Interment will follow at Mountain View Cemetery in Riverton, with military honors.

Viewing is from 5 to 7 p.m. Monday, July 5, at the funeral home.

Mr. Williams died at the Wyoming Medical Center in Casper early Wednesday morning, June 30, 2010, at the age of 76.

Daniel Walter Williams, Jr., was born in Cabin Creek, W.V., on July 17, 1933, the son of Daniel Walter Williams, Sr., and Elsie Kathleen (Jarrett) Williams. He was graduated from DuPont High School in Charlestown, W.V., and received his degree in business administration from West Virginia University.

In college he lettered academically and athletically playing varsity football all four years of college. He was voted into the top 100 players of all time for West Virginia University and played in the 1954 Sugar Bowl. He continued playing football in the Air force and one year pro-football with the Charleston, Rockets.

He was a captain in the U.S. Air Force, serving active duty from July 5, 1958 thru April 17, 1960. He later served in the reserves and the Wyo. Civil Air Patrol.

On Feb. 20, 1965, Mr. Williams married Alma Belle Hunt in his parent's home in Belle, W.V. The couple moved to Cheyenne later that year, to Lander in 1971, and to Riverton from Lander in 1998.

Mr. Williams was of the Baptist faith.

He started Big Mountain Insurance Agency in Lander, from the very first policy, in 1973 and moved the business to Riverton in 1988.

In his earlier years, Mr. Williams had worked as a heavy equipment operator in the coal mines in West Virginia and also worked for the Bell Telephone system in West Virginia.

Mr. Williams was a member of the Reach Foundation, NRA, supporter of Boys Town, and charter president of the Professional Insurance Agents of Wyoming.

His family said Mr. Williams enjoyed supporting youth throughout Fremont County, raising Arabian horses, and spending time with his granddaughter, Alexa and grandson, Ryder. Earlier he enjoyed hunting, participating in the Lander One Shot Antelope Hunt, the family said, and took a trip to Alaska where he bagged a grizzly bear.

Survivors include his wife, Alma; daughters, Robin Williams Hoffman of Riverton, and Joy Williams Jones and husband Levi of Riverton; grandchildren, Alexa Hoffman and Ryder Jones with another grandchild on the way; five children from a previous marriage; sisters, Betty Raisbeck and husband Bob of North Carolina, and close friends, Barbara Poggis and Valerie Syverts.

He was preceded in death by his parents, and two brothers, Bob and Paul Williams.

Memorials may be made to the Reach Foundation, NRA, or Donor's choice in care of the Davis Funeral Home, 2203 West Main, Riverton, WY 82501.

On-line obituaries are available and condolences for the family may be made at: theDavisFuneralHome.com

Services are under the directions of the Davis Funeral Home of Riverton.