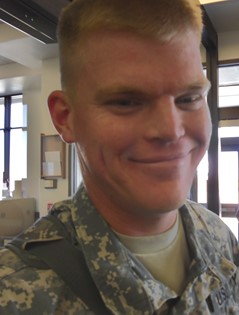 Nicholas Noyes Galloway
Mar 20, 1990 - Dec 3, 2010
Nicholas Noyes Galloway was born on March 20, 1990 in Lander Wyoming.

He is the second son and fifth child of William Harold and Holly (Noyes) Galloway.

Nicholas lived his life in the family home north of Riverton.

In 2008 Nicholas graduated from the Galloway Academy of Higher Learning. He attended Central Wyoming College from the age of sixteen until joining the United States Army in June of 2010.

An avid player of tennis, he joined the Riverton High School tennis team at age fourteen. He had also played Little League and Babe Ruth Baseball. Nick liked to hunt and to hike. He became a strong swimmer and that talent led him to become a lifeguard at the Riverton Aquatic Center for three years.

Nicholas was musically gifted. At the age of eight he began playing the violin. Through practice and dedication he became an accomplished violinist and pianist. He enjoyed playing many different genres of music.

Since his early childhood, Nick had demonstrated dependability and honesty. He could be counted on by his friends and family.

He had served in many positions of responsibility in Church of Jesus Christ of Latter Day Saints; including Deacon's Quorum and Teacher's Quorum President, Bishop's assistant, and most recently as clerk in the College Branch.

Nick loved the Boy Scouts. He was a very active member of troop 76 and earned his Order of the Arrow and went on to achieve the highest rank of Eagle. He continued the family tradition of military service. Nick entered the United States Army in June of 2010 and received basic training and AIT at Fort Leonard Wood Missouri. After completing training he returned home in late October for a visit and then returned to Fort Leonard Wood to serve as a construction engineer.

Nicholas Noyes Galloway lost his life honorably while serving his country on December 3, 2010.

He was preceded in death by his paternal grandparents Harold and Mona (Beus) Galloway and his maternal grandfather Warren Noyes. He was also preceded in death by two uncles and one aunt.

He is survived by his parents of the family home; three Sisters, Renee Galloway of Riverton, Leah (Les) DeVries of Shelley Idaho, and Meri (Travis) Tanz of Gillette. He has one brother William Stuart Galloway who is Sergeant in the USMC, currently serving overseas. He is also survived by two nieces and two nephews.

Services will be held on Saturday December 11, 2010 at the Church of Jesus Christ of Latter Day Saints at 11:00 AM.

He will be missed by his friends, family and community.

On-line obituaries are available and condolences for the family may be made at: thedavisfuneralhome.com

Services are under the direction of the Davis Funeral Home of Riverton.