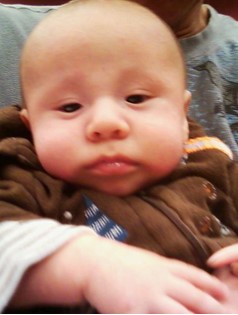 Eli C'Bearing
Jul 31, 2011 - Jul 28, 2011
Funeral services for Eli Jovani "Little E" C'Bearing of St. Stephen's are at 10 a.m. on Thursday, Aug. 4, at St. Stephen's Catholic Church. The Rev. Father Tony Blount officiates and interment follows at the Arapaho Catholic Cemetery at St. Stephen's.

A rosary is at 7 p.m. on Wednesday, Aug. 3, at St. Stephen's with a wake to follow.

The infant died in Denver, Colo., on Thursday, July 28, 2011, at the age of seven months.

Eli Jovani C'Bearing was born in Riverton on Dec. 22, 2011, the son of Wendell Moss, Sr., and Stephanie Ramona C'Bearing.

He was of the Catholic faith.

Survivors include his parents, Stephanie C'Bearing and Wendell Moss, Sr.; grandparents, Shirley D. Washington, Teddy Washington, Donna Goodman, Melvin A. Littleshield, Sr., Wanda Willow and Darrel Moss, Sr., Grace Willow; Penny and Deland Robertson, Terry and Beverly Willow, Becky and Eliza Moss, Ernie Willow, Jr., Douglas and Verna Willow, Alfred Willow, Sr., Cletus and Weldon Moss, Kendall Moss, Jr., and Mona Moss; a brother, Wendell Moss, Jr.; sister, Tiera Marie C'Bearing; great-great grandparents, Mary Lucille Willow, Aloysius Willow, Sr., Susanna Oldman, Rosella Moss, Donald Oldman, and Medrick Moss ; aunts and uncles, Jordan and Porche Riley of Missoula, Mont., Cameron Williams and Craig C'Bearing of St. Stephen's, Margaret C'Bearing of Casper, Patricia C'Bearing of Denver, Colo., Samantha, Cynthia and Michelle Littleshield, Melvin Littleshield, Jr., James and Darrell Goodman, Brenda, Arlene, and Elizabeth Goodman, Cora Durgin, Coreen, Leigh, and Lance Addison; uncles, Darrel Moss, Jr., Thedore Moss, John Moss, David Robertson, LeGrand Willow, Virgil Whiteman, Jr., Terry Wilson, Alfred Willow, Jr., Charles Willow, Ben Aragon, Reuben Quiver, Greg Trosper, and Naroy Willow; aunts, Ivora James, Loretta Whiteman, Alana Goodshield, Tashina Tillman, Shauna Dewey, Cheryl Headley, Ivy Robertson, Rita Brown, Annie Willow, Alta Bell, Sydney Willow, Yvonne Willow, Alicia Willow, Jovan Willow, Kayla Hill, Tara Brown, Valene Brown, Miken Wilson, Willow Wilson, Charislyn Moss, Ivy Moss, and Alecia Moss.

He was preceded in death by brothers, Baby Boy Moss and Deandre Moss; grandparents, Linus C'Bearing, Margaret Littleshield, John Goodman, George Bookman, Mona White, Betty Addison. great grandparents William and Elizabeth C'Bearing, John Buckman, Patsy Washington, Vicky Friday, Delores Moss, Tekwaitha SunRhodes, Eline Bearing, Julie Brown.

On-line obituaries are available and condolences for the family may be made at: theDavisFuneralHome.com

Services are under the direction of the Davis Funeral Home of Riverton.