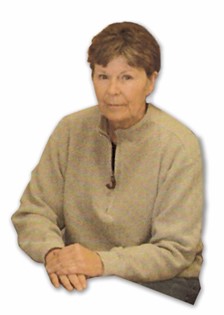 Tedde Roberts
Jul 23, 1946 - Aug 1, 2011
Tedde Roberts of Kinnear died at the Hospice Home in Riverton on Monday, Aug. 1, 2011, at the age of 65.

Cremation has taken place and a celebration of life will be announced in the fall.

Tedde Roberts was born in Billings, Mont., on July 23, 1946, the daughter of A.S. "Bud" Roberts and Joyce (Keating) Roberts. She grew up on a ranch on Pryor Creek South of Billings.

R.J. Mowrey came into her life in March of 1988 and they spent the next 23 years together as best friends, life partners, and business partners.

Together they built Mowrey Seismic, a GPS seismic surveying company in the oil exploration business. Headquartered in Riverton, their business took them through many Rocky Mountain states. Tedde was head of the processing and mapping operations. She wanted to succeed in a man's world and succeed as she did. Prior to her seismic career, she worked in sales in the wholesale food business.

Tedde acquired her private pilot license at a young age. She attended Montana State University-Northern at Havre, Mont., where she competed in college rodeo.

Her family said Tedde was an avid reader of fiction, James Michener and A. B. Guthrie were among her favorites. They said landscaping was a passion and she was particularly proud of her, deep purple Siberian iris, and her lawn. She was a creative cook and enjoyed trying new recipes and dishes. Her signature dish was Mexican Shrimp and her macaroni salad was a crowd favorite. Together she and R.J. hosted parties and especially enjoyed their fourth of July picnics attended by many friends. The couple enjoyed many years of collecting.

Survivors include her spouse, R.J. Mowry; a brother, Lewis Roberts of Billings. Mont., and her dog, Ruby Jean "the cow dog."

She was preceded in death by a son, Shawn; her father, Bud Roberts, and her mother, Joyce Keating Roberts.

Memorials may be made to the Help for Health Hospice Home, in care of the Davis Funeral Home, 2203 West Main Street, Riverton, WY 82501.

On-line obituaries are available and condolences for the family may be made at: theDavisFuneralHome.com

Arrangements are under the direction of the Davis Funeral Home of Riverton.