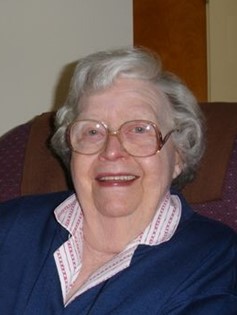 Anne Frances Sinicki
Jul 26, 1921 - Aug 9, 2011
Anne Sinicki of Riverton died at Wind River Healthcare in Riverton on Tuesday, Aug. 9, 2011. She was 90.

Memorial services will be held at 10 am on Saturday, Aug. 13, at the Davis Funeral Home in Riverton. Cremation has taken place and her cremated remains will be buried with her parent at a later date.

Anne Senftleben was born at home on July 26, 1921, on Staten Island, N.Y., to Emil and Franzie Vojacek Senftleben.

She was graduated from Curtis High School in 1939 and worked for Price-Waterhouse before her marriage to Bruno M. Sinicki. Mr. and Mrs. Sinicki lived on Staten Island until 1979 when they moved to Riverton for retirement.

Mrs. Sinicki is survived by a son, Michael and his wife Linda of Riverton; daughter, Marie Sinicki Soden and husband Irving of Windsor, N.Y.; grandchildren, Sarah Soden of Vestal, N.Y., Brian and Sandra Sinicki of Groisy, France, Jennifer and Jake Fenton of Sheridan, and Alan and Lisa Sinicki of Aurora, Colo., and six great grandchildren.

She was preceded in death by her parents, Emil and Franzie Senftleben; her husband, Bruno, and a sister-in-law, Edna Senftleben.

Memorials may be made to Meals on Wheels, in care of the Davis Funeral Home, 2203 West Main Street, Riverton, WY 82501.

On-line obituaries are available and condolences for the family may be made at: thedavisfuneralhome.com

Arrangements are under the direction of the Davis Funeral Home of Riverton.