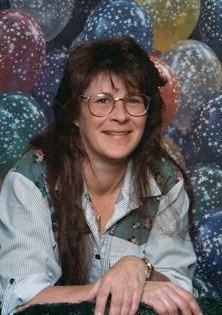 Gale A. Montoya
Dec 9, 1959 - Aug 23, 2011
Gale A. Montoya died at her home in Riverton on Tuesday, Aug. 23, 2011, at the age of 51.

Memorial services will be held at a later date.

Gale Ann Anderson was born in Aberdeen, Wash., on Dec. 9. 1959, the daughter of Earl Alan Anderson and Jewel Nadine (Payne) Anderson. She grew up in the Redwood Forest area of California attending school in Fort Dick, Calif., and DelNorte High School in Crescent City, Calif.

She married Richard Montoya in Aztec, N.M., in July of 2005.

Mrs. Montoya had lived in New Mexico for many years. She lived with her aunt and uncle until she was eighteen. She came to Riverton in 2007 to be closer to her sister.

She worked as a baker at the Maverick store, as a clerk at the Pit Stop in Riverton and held cashier jobs in New Mexico.

Her family said Mrs. Montoya enjoyed sewing, gardening, making jean blankets for her family, liked to fish, loved to cook, and took care of her family and friends.

She was of the Pentecostal faith.

Survivors include her son, Loren Loe III of Phoenix, Ariz.; a brother, Allen Anderson and his wife Faye of Aztec, N.M., and their son Andrew Anderson; a sister, Rosie Hughes of Riverton and her husband Frank and their children Christopher Pruitt and Aaron Pruitt; a sister, Violet Detcher Anderson of Elgin, Oregon, and her daughter Christina Anderson, sister, Lynois Grahm and husband Ora of Sacramento, sister, Karen Wiley of Dallas; other Montoya and Baez family members in New Mexico; a friend, Cindy Bouchard of Riverton and her children Spencer Lamb, Scott Lamb and his child Gabby and Sherrelle Lamb and her child Teagan.

She was preceded in death by her parents; her husband, Richard Montoya; brother, Terry Wiley; and two infant sisters.

Memorials may be made to the Tough Enough Fund, in care of the Davis Funeral Home, 2203 West Main Street, Riverton, WY 82501.

On-line obituaries are available and condolences for the family may be made at: theDavisFuneralHome.com

Services are under the direction of the Davis Funeral Home of Riverton.