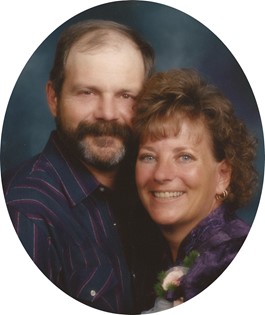 Tony and Deaun Smith
Apr 11, 1957 - Aug 25, 2011
Tony and Deaun Smith

Tony and Deaun Smith, husband and wife and lifelong residents of Riverton, Wyoming, lost their lives, together, on the morning of August 25, 2011.

A joint funeral service will be held at 10:00 AM on Tuesday, August 30 at the Davis Funeral Home in Riverton.

Deaun Lynn Heermann was born in Riverton, WY, on April 11, 1957, the daughter of Harley Irwin Heermann and Donna Rhea (Lewis) Heermann. Deaun lived in Dubois, WY at a very early age, but spent the majority of her years in Riverton, where she graduated from Riverton High School.

Anthony Curtis Smith was born in Thermopolis, WY, on December 26, 1957, the son of Willis Curtis Smith and Thelma Dorothy (Sanford) Smith. Tony also spent his entire life in Riverton, graduating from Riverton High School where he was a member of the high school football team.

Tony spent the majority of his life working in carpentry and woodworking, as a contractor under the name of Wild West Woodworking. He also spent 12 years with Union Carbide at the uranium mill, and in recent years worked for HB Rentals as a service technician.

Tony started into woodworking by building wooden toys for his three young sons. This led to a lifelong hobby that included showing his wares at regional craft fairs. Tony was not only a talented craftsman, but also enjoyed fishing, camping and cutting timber. Above all, Tony was a loving father, grandfather and husband.

Deaun ran a daycare for 22 years and played a large role in the lives of many children. She also enjoyed representing Avon and Partylite. In recent years Deaun worked as an administrative assistant for Bailey's.

Deaun loved to cook and bake, and always had something tasty for loved ones. She too enjoyed crafts of all types and participated on local craft fairs. Deaun was an excellent mother, who raised three strong women, and always made time for all of her beloved grandchildren and extended family.

Deaun attended the St. John Lutheran Church.

Tony and Deaun were married September 25, 1998, and by all accounts, were inseparable ever since. Together, they had a beautiful garden every year providing their family with fresh veggies and pumpkins for Halloween. They enjoyed playing at the local casinos and traveling to Deadwood. Between the two of them, they had 12 grandchildren who will dearly miss them.

Survivors for Tony include his oldest son, Tobias A. Smith, and fiancée Ashley Slack of Riverton, WY; his middle son, Tyler C. Smith, and wife Krysta of Riverton, WY; his youngest son, Travis L. Smith, and girlfriend Katie Burden of Riverton, WY; a brother, Jeff S. Smith, and wife Verdeanne of Cheyenne, WY; a sister, Debbie L. Hirz and her two sons of Casper, WY; and four grandchildren.

Tony was preceded in death by his mother and father.

Survivors for Deaun include her oldest daughter, Crystal Schamber, and husband Bob of Riverton, WY; her middle daughter, Chandra Osborne, and husband Joel of Riverton, WY; her youngest daughter, Chantaye Lambert, and husband Josh of Riverton, WY; a brother, Lee Heermann, and wife Susan of Riverton, WY; a brother, Ray Heermann, and wife Wendy of Riverton, WY; and eight grandchildren. Deaun was preceded in death by her mother, father, and a niece, Tera Heermann.

Memorials may be made to the Tough Enough Fund, in care of the Davis Funeral Home, 2203 W. Main, Riverton, WY 82501.

Online obituaries are available and condolences for the family may be made at: theDavisFuneralHome.com.

Services are under the direction of the Davis Funeral Home of Riverton.