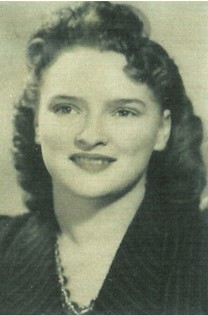 Mildred A. Poljanec
Nov 20, 1925 - Oct 6, 2011
Graveside services for Mildred A. Poljanec are at 1 p.m. on Monday, Oct. 10, at the Pinedale Cemetery.

Mrs. Poljanec died of cancer at the Wind River Rehabilitation Center in Riverton on Thursday, Oct. 6, 2011. She was 85.

Mildred Amelia Radakovich was born in Superior, Wyo., on Friday, Dec. 20, 1925, the daughter of Pete and Eva (Dragas) Radakovich.

She was graduated from high school in Pinedale.

In 1946 she married John Joseph Poljanec in Rock Springs. Three daughters were born to that union. The family lived in Superior, Boulder, Rock Springs, Pinedale, Jackson, and Riverton. The couple later divorced.

The family said she enjoyed bowling, swimming, fishing, boating, family get togethers, and cards.

She was a switchboard telephone operator from 1945 – 1946 and operated her own café "Millie's" from 1950 – 1953 while her husband operated the local filling station "Johnnie's Service" in Pinedale.

Mrs. Poljanec is survived by her daughters, Sandra Strack and husband Art of Littleton, Colo., Deborah Meyer of Lander, and Eva Alley and husband W. David Alley of Syracuse, Utah; four grandchildren and seven great grandchildren; a sister, Anne Olsen of Big Piney, and one brother, Roy Radakovich of Pinedale.

She was preceded in death by her brothers, Nick Radakovich, George Radakovich, Steve Radakovich, and Mike Radakovich; sisters, Sophie Radakovich, Ruby Pople, Mary Sherman, and Bessie Schwab, and one grandchild, John Alley.

Memorials may be made to Amedysis Hospice or Wind River Healthcare, in care of the Davis Funeral Home, 2203 West Main Street, Riverton, WY 82501.

On-line obituaries are available and condolences for the family may be made at: theDavisFuneralHome.com

Arrangements are under the direction of the Davis Funeral Home of Riverton.