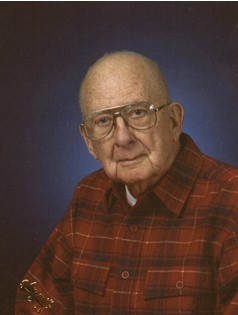 Hollis "John" Stagg
Nov 4, 1922 - Oct 31, 2011

Hollis "John" Stagg of Riverton, died Monday evening, Oct. 31, 2011 at Wind River Healthcare in Riverton. He was 88.

Funeral services are at 2 p.m. on Monday, Nov. 7, at the United Methodist Church of Riverton with burial and military honors to follow at the Mountain View Cemetery in Riverton.

A viewing will be from 4 to 8 p.m. on Sunday, Nov. 6, at the Davis Funeral Home of Riverton.

Hollis John Stagg was the third child born to Hollis H. and Ethel (Brown) Stagg. He was born on Saturday, Nov. 4, 1922 in Holton, Indiana. He was graduated from Clarksburg (Ind.) High School in 1941 and then worked for Inland Steel in Indiana Harbor until he enlisted in the U.S. Navy in December 1942.

His first ship, in January of 1943, was a Navy tanker, USS Monogahela. Later that year was transferred to a modified troop ship, USS, Rixey and was later assigned to Mobile Hospital Unit Four in Auckland. He helped to dismantle the hospital unit for shipment closer to the war zone, but he was sent with another ship returning mental patients to the states.

While on leave, he and Eleanor Lorntson were married on Jan. 19, 1945 in Arlington, Ind. His wife joined him when he was stationed at Crane Naval Ammunition Depot at Crane, Ind., where he worked in the pharmacy at the base hospital.

Mr. Stagg received an honorable discharge in November of 1945 and the couple moved to Indianapolis, Ind., where he started night classes at the Indiana University outreach program, worked at Sears which transferred him to a new store opening in Phoenix, Ariz. The family then moved to Hammond, Ind., and Mr. Stagg returned to work at Inland Steel. After a vacation spent in Wyoming, the family moved to Lander in the fall of 1949. Mr. Stagg was one of the first two mail carriers on foot hired at the Lander Post office.

He enrolled at Colorado A and M in the fall of 1952 and was graduated in 1956 with a Bachelor's degree in both life science and physical science. He taught in Colorado for a year, and then moved to Riverton. He began teaching at Riverton High School in the fall of 1958. During his 26 year teaching career in Riverton, he spent many summers taking classes at the University of Minnesota, Duluth campus, the University of Wyoming and CWC to work toward his masters degree. He retired in June of 1984.

Since moving to Riverton in 1958, he and his family were members of the United Methodist Church, where Mr. Stagg served on the board and several committees.

Mr. Stagg was a member of the Riverton VFW, the Riverton Education Association, as well as the state and federal education associations. He served on the school district salary committee and served as president of the Riverton Federal Credit Union for three years. During his teaching career he was a class sponsor and was active in many school activities. His family said he most enjoyed photographing all home football and basketball games for Riverton Wolverines.

In 1989, Mr. and Mrs. Stagg moved to Dubois, where they lived in the home they built themselves for his retirement. Due to health concerns, the couple moved to Green River in 2006, returning to Riverton in 2009.

His family said during his years in Riverton Mr. Stagg enjoyed spending many nights with his hound dogs along the Wind River chasing raccoons from sweet corn patches. He shared these adventures with colleagues and students wrote articles about the escapades and about ice fishing for Outdoor Life Magazine, Wyoming Wildlife Magazine, Fur, Fish, and Game Outdoorsman. The family said he also enjoyed hunting, fishing, camping, traveling, outdoor photography, bowling and playing cards with family and friends.

Mr. Stagg is survived by his wife Eleanor; son, Michael Stagg of Rock Springs; daughter, Patricia Robbins of Douglas; brother, Paul Stagg of Rushville, Ind.; two grandsons, Tony Robbins of Douglas and Deston Stagg of Rock Springs; two granddaughters, Melissa Robbins of Douglas and Adeline Siegel of Douglas; great grandson, Jaden Hollis Forde of Douglas; and numerous nieces and nephews.

He was preceded in death by his parents; a brother; and a sister.

Memorials may be made to the CWC Foundation for the Hollis John Stagg Scholarship in care of the Davis Funeral Home, 2203 W. Main Street, Riverton, WY 82501.

On-line condolences for the family may be made at: theDavisFuneralHome.com

Services are under the direction of the Davis Funeral Home of Riverton.