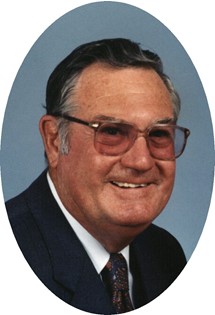 William W. "Bill" Day
Jan 10, 1929 - Nov 4, 2011

Funeral services for Dr. William W. Day, 82 will be held Wednesday November 9, at 11 a.m. at St. John's Lutheran Church in Riverton. Military Honors will follow at Mountain View Cemetery. He died Friday November 4, 2011 at Help for Health Hospice Home in Riverton.

He was born in Fargo, ND January 10, 1929 to William W. Day III and Mabel (Rembeck) Day. He was raised and graduated from high school in Worland, WY. He played football and was a skier.

He married Carol Bower, his high school sweetheart in Billings on June 14, 1949.

He served with the 300th Armored Field Artillery Bn. Wyoming National Guard during the Korean War. He survived 244 days of combat and was awarded many decorations including the Bronze Star Medal for Valor, the Army Commendation Medal, 2 U.S. Presidential Unit Citations-Army, 1 Presidential Unit Citation-Navy for support of the 1st Marine Division, 2 U.S. Meritorious Unit Commendations for combat in Korea. He left for Korea as a Master Sergeant and was given a direct commission as 2nd Lieutenant upon return. He ended his service with the rank of Captain.

Bill earned a BA and MS in Physics and chemistry from the University of Wyoming and the Doctorate degree from the University of Nebraska – Lincoln.

He taught mathematics and science at Green River, WY and was on the faculty of the University of Wyoming. He was a senior lecturer for NASA and a math-science consultant for the state of Colorado. He then taught at Ferris State University in Michigan as an Associate Professor and department chairman, followed by appointment as Full Professor and Dean at California State University, Turlock CA.

Dr. Day was president of Central Wyoming College from 1973-1980. He finished his teaching career in Hong Kong where he taught physics and nuclear science at Hong Kong International School. He retired in 1989 due to deafness.

He was active in the Boy Scouts earning the rank of Eagle and was a scoutmaster for many years, also serving on the district and council committees. He was awarded the Silver Beaver as a Scout Leader.

Bill received a national award for teaching by the American Association of Physics Teachers. Dr. Day was elected "Fellow" by the American Association for the Advancement of Science. Named by American Men of Science 1956-1981; Who's Who in American Education 1967-1981; Leaders in Education; and Outstanding Educators of America.

He was a member of many accreditation teams for Public Schools and Universities. Bill has been honored by the U.S. Field Artillery Association and has received both the Honorable and Ancient Orders of St. Barbara.

He has many of his studies and monographs published, as well as being the author of "The Running Wounded" a personal memory of the Korean War

His public service includes the Stanislaus County Planning Commission in California and the Fremont County Planning Commission in Wyoming, where he served as chairman. He served on the Governors Committee on Youth and was an area chairman for the Wyoming ESGR Committee.

Bill was a life member of the VFW and the Disabled American Veterans.

Bill's greatest joy was his family. He took great pride in his children and grand children. Bill's wife Carol and children have been a great source of support and friendship. He enjoyed the open spaces of Wyoming and loved to hunt, fish, and ski. He and Carol have traveled all 7 continents and more than 100 countries.

He was preceded in death by a son, Kenneth, his parents, Brother Dr. Gary Day and brother-in-law Leland Smith.

Bill is survived by his wife of 62 years and children; Linda D. Burnette and husband Garry of Riverton and Margaret E. Jamieson and husband Bill of Gulf Port, MS, William W. Day V and his wife Bonnie of Madera, CA, and Timothy P. Day and his wife Jolene of Las Vegas, NV, and eleven grandchildren and two great-grand sons.

Bill is also survived by a sister Marilyn C. Smith of Snowflake, AZ, brother Dr. Michael D. Day and his wife Verge of Provo, UT, and sister-in-law Mary Jane Day, as well as many nieces and nephews.

Memorials may be made to the CWC Foundation for the Kenneth Day Memorial in care of the Davis Funeral Home, 2203 W. Main Street, Riverton, WY 82501.

On-line condolences for the family may be made at: theDavisFuneralHome.com

Services are under the direction of the Davis Funeral Home of Riverton.