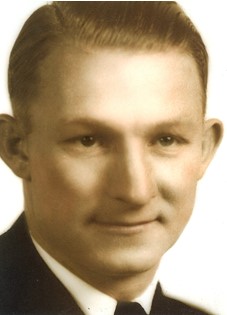 Charles F. "Pete" Peterson
Mar 5, 1917 - Nov 2, 2011
Military graveside honors for Charles F. "Pete" Peterson of rural Dubois will be at the Dubois Cemetery on Saturday, June 9, 2012 at 11:00 a.m. Dubois VFW Post 10056 will provide Military Honors.

A celebration of his life will follow the graveside at the Dubois VFW Club.

Mr. Peterson died at the Hospice Home in Riverton on Wednesday, Nov. 2, 2011, at the age of 94.

Charles Frederick Peterson was born in South Norfolk, Virginia, on Monday, March 5, 1917, the son of Charles Victor Peterson and Bessie Mae (Clark) Peterson. He moved from Virginia to California in 1935.

On May 20, 1945, he married Shirley Louise Baker in San Diego, Calif.

Mr. Peterson was a career military man, serving in the U.S. Navy for 22 years, including duty during World War II and the Korean War. He retired as a Chief Petty Officer, having joined the U.S. Navy on June 12, 1936, when he was 19 years old.

The family moved from California to Wyoming in 1968, settling first in Deaver, then moving to Dubois in 1969.

Mr. Peterson was a maintenance machine shop technician in Long Beach from 1958 to 1968. After moving to Dubois, he drove school bus for Fremont County District 2, 1981-1992, retiring in 1992 to care for his wife who died in 1997.

He was one of the first EMT's serving the Dubois area, a position he filled for five years.

Mr. Peterson belonged to the Dubois Veterans of Foreign Wars and the Fleet Reserve Association.

He was of the Baptist faith.

He served as a Scoutmaster in Long Beach from 1957 to 1968.

Survivors include his son, Charles Richard Peterson and his wife Brigitte of Virginia Beach, Virginia; daughters, Joyce Peterson Rector and her husband Herb of Valentines, Virginia, and Cheryl Ann Adams and husband Bruce of Alpine; close family friends and caregiver, Marcy and Kenny Leseberg of Dubois; 11 grandchildren and 19 great grandchildren; and 1 great great granddaughter; a sister, Nettie Elliott; brothers, Clarence A. Peterson, Carl A. Peterson, and Thomas B. Peterson; daughter-in-law, Barbara Peterson.

He was preceded in death by his parents; by his wife, Shirley on May 2, 1997; a son, Donald Gene "Pete" Peterson; granddaughter, Shawna Lynne Adams; three brothers, and one sister.

Memorials may be made to the Dubois V.F.W. in care of the Davis Funeral Home, 2203 W. Main Street, Riverton, WY 82501.

On-line condolences for the family may be made at: theDavisFuneralHome.com

Services are under the direction of the Davis Funeral Home of Riverton.