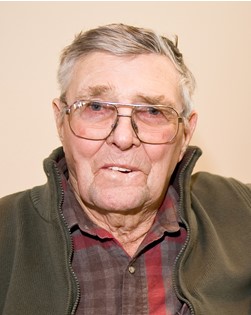 Robert D. "Bob" Forbis
Dec 18, 1918 - Nov 8, 2011
Funeral services for Robert D. "Bob" Forbis of Riverton are at 10 a.m. on Monday, Nov. 14, at the Davis Funeral Home of Riverton with interment following at Mountain View Cemetery in Riverton. Echo Klaproth officiates.

There will be a viewing from 5 to 7 p.m. on Sunday, Nov. 13, at the funeral home.

Mr. Forbis died at his rural Riverton home on Tuesday, Nov. 8, 2011, at the age of 92.

Robert David Forbis was born in King City, Mo., on Wednesday, Dec. 18, 1918, the son of David Boyd Forbis and Ollie A. (Boner) Forbis. The family moved from Missouri to Fremont County when he was a child. He attended the Delfelder School out of Riverton and was graduated from Riverton High School.

He married Celestial Mae O'Hara on Feb. 7, 1944. Together the couple celebrated 66 years of marriage. She preceded him death on Febr. 17, 2010.

Mr. Forbis was a project manager in construction, a master carpenter, master welder and designer, who was a home builder and worked for Gilpatrick's for many years.

He was of the Catholic faith.

His family said Mr. Forbis enjoyed woodworking, rockhounding, camping, snowmobiling, four-wheeling, fishing, the outdoors, gardening, tooling leather, and spending time with his family.

Mr. Forbis is survived by daughters, Mary Michele Forbis Schaeufele of Ohio; Joanna Havard of Meter, Georgia; sons, Jim Forbis of Colorado, Tim Forbis and his wife Peggy of Riverton; grandchildren, Heath Riewe and his wife Lisa, Crystal Dunnigan, Tera DeQueiroz and husband Allen, Robin Sosa and husband Hernon, Tess Gallegos and husband Matt, Christopher Forbis and wife Tiffany, Michael Forbis and wife Tammy, Jeremy Forbis and wife Shalini, Michele Decker and husband Robert; great grandchildren, Trent, Caleigh, and Connor Riewe, Shephan Bunn, Angela and Ashley Dunnigan, Hanna and Eiji DeQueiroz, Gabriella Sosa, Samuel Gallegos, Ethan and Ellanie Forbis, Dillon and Zack Forbis, Savita and Divya Forbis, and Josh Decker.

He was preceded in death by his wife, Celestial Forbis; parents, David and Ollie Forbis; 12 brothers and sisters; son-in-law, John Schaeufele, and toddler-age son, David. Memorials may be made to Amedisys, in care of the Davis Funeral Home, 2203 West Main Street, Riverton, WY 82501.

On-line obituaries are available and condolences for the family may be made at: theDavisFuneralHome.com

Services are under the direction of the Davis Funeral Home of Riverton.