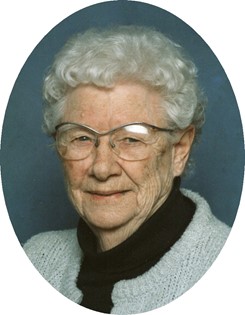 Evelyn Lovell
Feb 7, 1918 - Nov 24, 2011
Evelyn I. Lovell died at her home in Riverton on Thursday, Nov. 24, 2011. She was 93.

Memorial services are at 2:00 p.m. on Tuesday, Nov. 29th, at the Davis Funeral Home of Riverton. The Rev. Mark Thurman officiates.

Cremation has taken place and inurnment will be at Mountain View Cemetery in Riverton following services.

Evelyn Irene Lissman was born in Nuckolls County, Neb., near the community of Nelson. She was the daughter of Henry and Della (Webb) Lissman. She rode horseback to school at Lyman, graduating in 1935, then did one year of post-graduate work at Riverton High School in 1936.

The family had moved to Lyman from Nelson when she was 10, and then she came to Riverton with her family as the oldest of five children in 1936, when his father fulfilled his dream of owning his own land.

She married Keith LaVerne Lovell at the old Riverton Methodist Church, now the Riverton Museum, on May 27, 1951. She was a homemaker who took her daughter to all activities.

In addition, Mrs. Lovell was a stenographer in the banking industry, working for five years at the First Interstate Bank and for five years for Farnsworth Insurance.

She was of the Methodist faith.

Her family said she was interested in genealogy, traveling, family reunions, and camping in their trailer.

Mrs. Lovell established the Genealogical Society of Riverton and was active in the Daughters of the American Revolution, where she got over 100 women to join.

Survivors include her husband, Keith Lovell of Riverton; a daughter, Susan; two grandchildren, Barbara and Brent; brothers, Jr. Wayne Lissman and his wife Phyllis, Raymond Lissman, and James D. Lissman and his wife Betty, all of Oregon; a sister, Kathleen Dennis of Riverton.

She was preceded in death by her parents, and a brother-in-law, Vernon Dennis.

On-line condolences for may be made at: theDavisFuneralHome.com

Services are under the direction of the Davis Funeral Home of Riverton.

In lieu of flowers, please make donations to Fremont County Hospice, Fremont County Meals on Wheels, Shoshoni Senior Citizen Center.