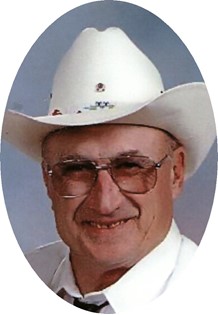 Donald Lewis Knifer
Nov 24, 1929 - Nov 23, 2011
Services are 10 am, Wednesday, December 28th at the Lifeline Christian Church for Donald Lewis Knifer of Riverton, Wyoming. Don passed away November 23, 2011 at his home in Riverton after a long illness. Don was born on November 24, 1929 in Denver, Colorado to Lewis G. Knifer and Corinne E. Glasgow Knifer. He met his future wife, Dorothy V. Dunning of Riverton and they were married on July 23, 1950 in Riverton, Wyoming.

They resided in Denver, Colorado until 1963, where all five of their children were born. Don was a communications engineer for Mountain Bell Telephone Company for 32 years, retiring in Lander, Wyoming in 1979. He then worked at the Wyoming State Training School for 2 years as a mechanic. After leaving the State School, Don and Dottie sold their home in Lander and began their travels in their 5th wheel trailer. They traveled the West spending winters in Quartzite, Arizona and summers near Libby, Montana on the Koocanusa Reservoir as camp ground hosts for the Forest Service. They traveled for 8 years finally buying a home in Payson, Arizona, later moving to Thermopolis, Wyoming. They then moved home to Riverton in 1997.

Don graduated from North High School in Denver in 1947. He attended numerous technical schools over the 32 years he worked for Mountain Bell Telephone.

Don loved fishing, hunting and just being in the outdoors. He enjoyed having coffee with his buddies each day at 789 in Riverton. One of his favorite things was camping with his wife and five children while they were growing up. He was an avid mechanic and wood worker, and his special talent was that he could fix or build anything. One of his special loves was riding his motorcycle into the desert while in Arizona and communing with nature.

Don was a Christian and a member of Lifeline Christian Church. While in Lander he was a fireman for the Lander Volunteer Fire Department. He was a charter member of the Lander Elks Club and a member of the Telephone Pioneers of America.

Don is survived by his wife of 61 years, Dottie Knifer of Riverton. He is also survived by 5 children including, Patrick Knifer of Berwyn, Illinois; Larry Knifer and wife Tracey Mahoney of Colorado Springs, Colorado; Constance "Connie" Clarady of Wichita, Kansas; LeAnn Atkin and husband Mark of Lander, Wyoming; and Jennifer C. Knifer of Arvada, Colorado. He also leaves behind 12 grandchildren and 13 great grandchildren. He is also survived by a special niece Marilyn Knifer Hathaway of Castaic, California and several cousins including Rod Knifer of Fleming, Colorado.

Don was preceded in death by his parents, brother George, in laws Alvah and Viola Good, and father- in- law Charles Dunning. It is requested by the family that in lieu of flowers, donations be made in Don's memory to Amedisys Hospice Services of 514 E. Pershing, Riverton, Wyoming.