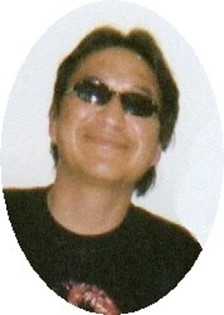 Robert D. "Doyle" Bell
Aug 26, 1965 - Dec 11, 2011
Funeral services for Robert D "Doyle" Bell of St. Stephen's are at 10 a.m. on Thursday, Dec. 15, at St. Stephen's Catholic Church. The Rev. Father John Gaffney officiates.

Interment follows at the Arapaho Catholic Cemetery at St. Stephen's.

A rosary will be held at Great Plains Hall at 7 p.m. on Wednesday, Dec. 14, with a wake to follow at the home of Irene Lawson and Virgil Behan, #6 Oldman Circle.

Mr. Bell died at his home on 17 Mile Road on Sunday, Dec. 11, 2011, at the age of 46.

Robert Daniel Bell was born in Riverton on Thursday, Aug. 26, 1965, the son of Theodore Delbert Bell and Jeanette Gertrude (Goggles) Bell. He was graduated from high school in Chimewa, Oregon, and studied carpentry at the Job Corps in Utah and attended Southwestern Indian Polytech Inst.

Mr. Bell was a member of the Arapaho tribe.

He worked as a carpenter in housing construction and was also a fire fighter.

He was of the Catholic faith and had served as an altar boy . Mr. Bell participated in ceremonial dancing.

His family said he enjoyed going to the casino and playing basketball.

Survivors include his sons, Jared White Bull, Seth Bell, Louis C'Hair, and Robert Antelope; grandparents, Emma and Joseph Goggles, Sr., Issac and Agnes WhiteBull; brothers, Lawrence Bell, Lionel Bell, Norbert Bell, Eugene Bell, Leroy Means, John Means, Bruce Means, Billy Means, and Clowery Means; sisters, Frencine Bell, Anna Means, and Tina Makeshine; aunts, Patricia LuEllen, Ethel Bell, Ruth Biglake, and Catherine Red Cloud; uncles, John, Rupert, Sr., and Owen Goggles. Sundance Grandfather, Harold Smith. Also many grandchildren, nephews, nieces, and cousins.

He was preceded in death by his parents, other grandparents; numerous brothers, including Jim Bell, Benjamin Bell, Landon Bell, Mike Bell, and Jason Killsontop, and a sister, Loveda Bell.

On-line condolences may be made at: theDavisFuneralHome.com

Services are under the direction of the Davis Funeral Home of Riverton.