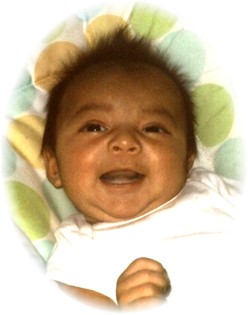 Kason Kody Enos
Oct 11, 2011 - Dec 27, 2011
Kason Kody Enos, infant son of Dalton Enos and Kirstyn Cota of Riverton died at Riverton Memorial Hospital on Tuesday, Dec. 27, 2011.

Funeral services are at 10 a.m. on Monday, Jan. 2, at St. Michael's Mission at Ethete. Burial will follow at Yellowcalf Cemetery.

A viewing begins at 4 p.m. on Sunday, at the Enos family home, 4380 Airport Road, Riverton.

Kason Kody Enos was born on Tuesday, Oct. 11, 2011, and died at the age 77 days on Dec. 27, 2011.

His family described him as a happy baby with "an amazing smile and huge beautiful eyes."

Survivors include his parents, Dalton Enos and Kirstyn Cota; a sister, Markia Rose Enos; maternal grandparents, Anita Lee Graham and Lennis Cota; paternal grandparents, Andrea Enos and Antone Enos; maternal great grandmother, Mary Agnes Lee; paternal great grandparents, Audrey Enos and John; numerous aunts, uncles, and cousins.

He was preceded in death by great grandparents, Charles Whiteman and Elabie Hereford; great grandfather, Albert Lee, Sr.,; uncles, Marcus Hereford, Ian Tillman, and Hawk Tillman.

On-line condolences may be made at: thedavisfuneralhome.com

Services are under the direction of the Davis Funeral Home of Riverton.