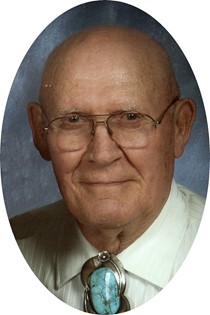 William "Bill" Eichler
Jan 13, 1928 - Feb 16, 2012

William "Bill" Eichler passed away at his home on Thursday, February 16, 2012, with his family by his side.

Funeral services will be held on Monday, February 20, 2012 at 10:00 am at the United Methodist Church in Riverton. Pastor Mark Thurman will officiate. Visitation will be at Davis Funeral Home on Sunday, February 19, 2012 from 5:00pm to 7:00pm.

William Sherwood Eichler was born on Friday, January 13, 1928 in Flint, Michigan to William Jacob Eichler and Nellie Elizabeth (Crumback) Eichler.

Bill's early education was in Michigan. He then went on to two different colleges and earned his Bachelors and one of his Masters at the University of Michigan and his second Masters at Central Michigan University.

Bill served in WWII aboard the submarine USS Ronquil (SS-396) as Electrians Mate 3rd Class. He was honorably discharged in 1952.

Bill and Marillyn Jean Cleary were married on September 17, 1949 in Rose City, Michigan. Together they raised two boys, William E. (Duffy) Eichler and Richard A. Eichler

While in Rose City they had their own business, Northern Business Service, which specialized in accounting and tax services. In 1977 they moved to Riverton, Wyoming where he became the business manger at Central Wyoming Community College and later took a position as the business manger of Wyoming Indian Schools.

In 1988 Bill became involved as a city council member serving until 1995, when he became the Mayor of Riverton, serving seven years.

Bill was involved in the VFW, American Legion, Lions, Chamber of Commerce, Masons, and Shriners. He held the positions of VFW Commander in Michigan, Treasurer of the Lions Club in Wyoming, and was a past Director and treasurer of the Lion's Rocky Mountain Lions Eye Bank. He was elected to serve on the 1st board to establish and construct a new community college, Kirtland Community College in Roscommon, MI.

His family said he loved music, theater, being a sports spectator, traveling all over the world, and especially the West and all that came with it.

He survived by his wife of 62 years, Marillyn Jean Eichler of Riverton, his son, Richard A. Eichler of Lebanon, TN, and his sister Marlene N. LaBeau of Saginaw, MI; two grandchildren, Jacqueline and Chritina Eichler of Lebanon, TN.

He was preceded in death by his parents and a son, William E. (Duffy) Eichler.

Memorials may be made to the United Methodist Church or the Donor's choice in care of the Davis Funeral Home.