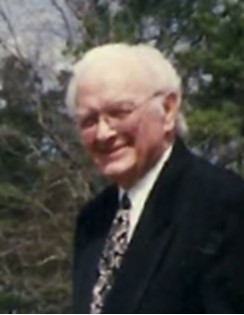 Douglas Tuck
Apr 5, 1934 - May 4, 2012
The Rev. Douglas Tuck, 78, died at his home near Pavillion on Friday afternoon, May 4, 2012. Funeral services are at 11 a.m. on Saturday, May 12, at the Community Church in Rockingham, N.C. Pastor Jon Martin officiates. Interment will be at the Northam Cemetery in Rockingham. Visitation is from 6 to 8 p.m. Friday at the Carter Funeral Home in Rockingham.

Herman Douglas Tuck was born in Rockingham, N.C., on April 5, 1934, the son of Herman and Blennie (Snead) Tuck. He attended five years of college.

He married Joan Martin in Detroit, Mich., on June 11, 1955. Rev. Tuck had worked for the CSX railroad and as a minister. He held credentials through the Church of the Nazarene and served 12 years in the Nazarene pastorate. The remainder of his ministry was at the non-denominational Community Church in Rockingham, N.C. He spent a total of 44 years in the ministry. Upon completion of high school, he had served as an apprentice with the Fisher Body/Chrysler and was a Journeyman Tool and Dye maker. When he was 22 years old, he was called into the Christian ministry.

The family had lived in the Pavillion area for the past six and a half to seven years. Prior to retirement they lived in Rockingham, N.C. He had served pastorates in Nebraska, Washington state, Michigan, and North Carolina. His family said Rev. Tuck enjoyed golfing, fishing, camping, woodworking, and was an avid reader.

Rev. Tuck is survived by his wife, Joan Elizabeth (Martin) Tuck of Pavillion; a son, Jon Douglas Tuck of Greenville, S.C.; a daughter, Jamie Elizabeth Tuck Johnston of North Richland Hills, TX.; four grandchildren, Ryan Douglas Turner, Joan Elizabeth Turner, Jess M. Johnston IV, and Austin M. Johnston. Several nieces and nephews, and a sister, Virginia Kime of Sunset Beach, N.C.

He was preceded in death by his parents, Herman Douglas Tuck Sr. and Blennie Mae (Snead) Tuck.