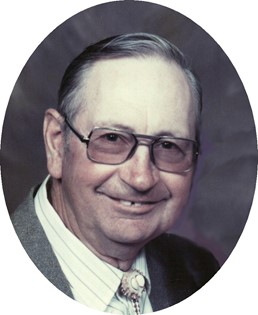 Jack Ellis Gaudern, Sr.
May 19, 2012 - May 19, 2012

Jack Ellis Gaudern Sr. 91 of Shoshoni was carried home on May 18, 2012. Jack was born April 1, 1921. Jack was the eldest son of the ten children born to Richard and Mervel Gaudern.

The family will have no service at this time and arrangement for a celebration of life will be announced at a later date. Davis Funeral home will be handling the creamation.

After graduating from Huntley High school in 1939 he moved to Cheyenne where he worked as an automobile mechanic. While in Cheyenne he met and married the love of his life, Helen Marie Weddle on August 2, 1941 in Gering, Nebraska. The couple celebrated 70 cherished years of marriage in August of 2011.

Shortly after they were married Jack was called to serve in the Army Air Corp during World War II. After serving his county the couple returned to Cheyenne where he began his automobile mechanic career. He worked for several different repair shops before he bought out Cheever's Repair and started his own auto repair business. After working for several different automotive establishments in Riverton he finished his career as a machinist for Car Quest.

Jack enjoyed many different passions/ hobbies during his life. Number one was his horses. He had great insight into the breeding of top blood lines for generations of all-around performance horses. His dream was to breed champion horses. With Helen's help raising the horses his dream was fulfilled every time they sold a horse that became a champion for the owner that purchased it.

His love of horses is what brought the family to the Riverton/Shoshoni area. Jack was an automobile mechanic by trait but really a Jack of all Trades. He with Helen's help built two of the homes that they raised their children in. Helen is still living in the last home that they built and is enjoying the toils of their love.

Among his other passion was his love for the mountains and the outdoors which would lead the family/families to many camping, hunting and fishing trips each year. He was a sculpture with welding of many horse shoe critters. Jack was also a master of carpentry not only at building homes but small unique things also. His creativity and ingenuity would lead him to manufacturing parts for equipment, a stamp for making hot air balloon earing, lamps, firewood racks you ask he would figure out a way to make it.

Survivors include his wife Helen of Shoshoni, son Jack Ellis Gaudern Jr. and wife Cindy of Riverton, daughter Roxie Ann Arnold and husband Chris (2-Tall) of Cheyenne. Grandchildren Kim Stark and husband Mike, Kerry Griffith, Kellie Burns and husband Travis, and Zeke Gaudern and wife Rewa. Great grandchildren Michael Holbert, Shayly Stark, Helana Griffith, Holbie Oakley, MacKennzie and Aubrey Burns. Four sisters and one brother and numerous nieces and nephews.

Proceeded in death by his parents, one sister as an infant, three brothers, and one great grandson.

(Memorials) Expressions of sympathy may be made to the Help for Health Hospice, in care of Davis Funeral home, 2203 W. Main St., Riverton, WY 82501.