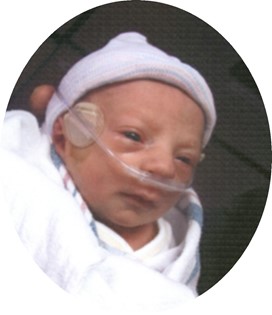 Austin Keith Barnes
Jun 9, 2012 - Jun 10, 2012
Our handsome precious baby Austin was born 06/09/2012. He was a beautiful happy lil man.

The Lord found need to take him from us on 06/10/2012, suddenly and with no explanation.

Austin is survived by his parents, Regina Hunter and Roderick Barnes, both of Riverton; Grandparents, Katie Verley and Rick Nation, Randy Hunter, April and Russ Locker, all of Riverton, WY, and Rodney Jones of Virginia; Great-Grandparents, Ken and Kathy Verley of Missoula, MT, Donna McMullin of Skagway, AK, Maggie and Chris Daubin of Riverton, WY, Donna Littrell of Salmon, ID, and Larry Hunter of Riverton, WY; Aunts, Lacy Nation, Brandalyn Hunter, Mercede Hunter, and Alyssa Locker all of Riverton, WY; Uncles, Justin Nation and wife Rachel of Pearl City, HI, Jason Hunter and Peton Locker of Riverton, WY; Great Aunts, Marcia Boris Alberton, MT, Tana Regan of Aztec, NM, Jody Spivey of Butte, MT, Mary Beth Jones of Cheyenne, WY, and Heath Jones of Virginia; cousins, Tyson and Brayden Nation.

Our little Austin will be dearly missed! We Love You Austin!