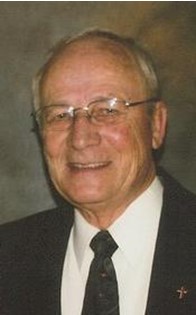 Donald Johnson
Mar 29, 1938 - Jul 9, 2012
After a year-long battle with heart and lung problems, Donald Johnson was called to his eternal rest on Monday, July 9, 2012, at Manning Regional Healthcare Center in Manning, Iowa, at the age of 74 years, 3 months and 11 days.

Memorial services for Donald Johnson, age 74, of Lander, Wyoming will be 11 AM, Friday, September 28, 2012, at Bethel Lutheran Church in Lander. Don's family will greet friends from 10 AM until service time the day of service at church. Don was Pastor at Bethel Lutheran Church in Lander from 1987 to 2001, and lived in Lander during his retirement.

Donald Leroy, son of Maynard and Daisy (Wolf) Johnson, was born March 29, 1938, at Ladysmith, Wisconsin. He was baptized June 19, 1938, at the Lutheran church at Sheldon, Wisconsin. On March 18, 1951, he was confirmed at St. John's Lutheran Church in Ladysmith. As a young boy, Don's family lived in many places in Wisconsin. He attended kindergarten in Milwaukee, first grade at country school near Sheldon, second grade at Glenflora and third grade at Birchwood. Don began fourth grade in Tony and graduated from Tony High School in 1956. He then studied Architectural Drafting at Dunwoody Institute in Minneapolis, Minnesota, and subsequently worked the next two years as an Architectural Draftsman for Sheehy Construction in St. Paul.

On August 27, 1960, Don was united in marriage with Joan Marliene Burke at Siloa Lutheran Church near Braham in Isanti County, Minnesota. Five children were born to this union.

In 1960, Don was called to the ministry and attended Concordia College in St. Paul and Concordia Seminary in Springfield, Illinois. On June 5, 1966, he was ordained into the Pastoral Ministry and began serving as Pastor at Zion Lutheran Church in Ulm, Arkansas. In 1973, the family moved to Paullina, Iowa, where Don served at Zion Lutheran Church. From 1987 until his retirement on August 31, 2001, Don served at Bethel Lutheran Church in Lander, Wyoming.

In retirement, Don continued to preach as needed for area LCMS churches. Joan died on Thanksgiving Day, November 24, 2011. Due to the weather and health concerns, Don then lived with his daughters in Iowa until moving into his own place in Manning in May of 2012.

Don was a member of Bethel Lutheran Church in Lander, Wyoming. Throughout the years, Don enjoyed hunting antelope, deer and elk, going fishing, and hunting, cutting and polishing rocks. He also enjoyed feeding and watching birds and other wildlife.

Don is survived by five children: Jody Syndergaard of Sutherland, Iowa; Marla Kraayenbrink and husband Randy of Waverly, Iowa; Amber Neumann and husband Greg of Manning, Iowa; Carmen Cronk and husband John of Mallory, New York; Burke Johnson and wife Boni of Manning, Iowa; 15 Grandchildren: Kaleb and Jarod Syndergaard; Leah Kreiner and husband Ryan; Tony Kraayenbrink and wife Jamie; Jill Kraayenbrink; Ryan, Hannah and Riley Willison; Travis and Markus Neumann; Joel, Sam and Nick Cronk; Jackson and Nathan Johnson; four great-grandchildren: Payton and Nolan Kreiner and Eli and Everly Kraayenbrink; a brother Gilbert Johnson and wife Jean of Ladysmith, Wisconsin; a sister Judy Dappan and husband Glen of Ruskin, Florida; other relatives and many friends.

Don was preceded in death by his parents, wife, and a son-in-law Michael Syndergaard.

The Johnson & Woodhouse Funeral Home in Manning, Iowa is in charge of arrangements.