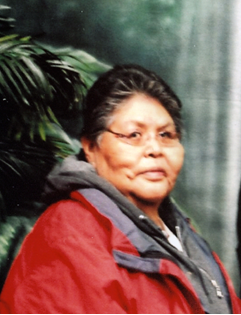 Viola "Ann" Smith
Aug 3, 1944 - Jul 22, 2012
Viola "Ann" Smith, 67, of Ethete, died on Sunday, July 22, 2012 at the Riverton Memorial Hospital.

A rosary will be held at 7:30 pm at Blue Sky Hall in Ethete on Wednesday, July 25, 2012. A wake will follow at the home of Robert (George) Smith located at 19 Farmstation Road in Ethete. Funeral services will be held on Thursday, July 26, 2012 at 10:00 am at Blue Sky Hall in Ethete. Services are under the direction of Davis Funeral Home of Riverton.

Viola Annabelle Bush was born on August 3, 1944 in Fort Duchesne, UT to Sam and Mabel (Cornpeach) Bush. She was raised on the Fort Duchesne Reservation in UT along with four brothers, Adolph, Jeffrey, Samuel, and Alfred, and one sister, Shirley.

She started working for the Ute Tribe when she was sixteen years old. She continued to work for the Ute Tribe until she moved to the Wind River Reservation over twenty years ago. After moving she worked for both the Northern Arapaho and Eastern Shoshone Tribes. Her last position was as the Executive Director for Shoshone Housing Authority.

She graduated high school in Rosevelt, UT. She then an associates degree from Griffin Business College in Seattle, WA. She went on to complete her business degree through Central Wyoming College earning her bachelors.

Her family said that she enjoyed beading, traveling, reading, hunting, fishing, sewing, working on the computer and the casino. She also practiced her Native American ways by being involved with Sun Dance, Pow Wows and the sweats. One of her greatest joys was spending time with her family and especially her grandchildren.

She is survived by her husband, Robert George Smith; her daughters, Lauriann Yazzie, Rosa Duran, and Venora Upshaw; her stepchildren, Jack Lee Smith, Nolan Wallowingbull, and Kay Gould; adopted children, Spencer Nephi, Andre Nephi, Juliann Nephi, Veronica Wilson, Geraldine Felter, and Kathy Underwood; brothers, Adolph F. Bush, Jeffrey S. Bush, Samuel J. Bush, and Alfred Bush; sister, Shirley L Copperfield; adopted brothers and sisters, Rose Oldman, Carla Geboe, Roberta Eagle, Priscilla Y Barra, and Frank Armajo; sister-in-laws, Joyce (Burton) Hutchinson and Erma (Felix) Grosebeck.

She is preceded in death by her parents, Sam and Mabel Bush; her first husband, Joseph Patrick Wallowingbull; step-son, Joseph (Magpie) Wallowingbull, Jr.; granddaughter, Mabeleine Yazzie; great grandsons, Rylin Greyeyes and Liam Greyes; .

On line condolences may be made at www.thedavisfuneralhome.com .