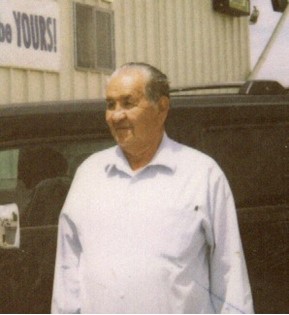 Alfred Spoonhunter, Sr.
Dec 30, 1943 - Jul 29, 2012
Funeral services for Arapahoe resident, Alfred Spoonhunter, Sr., "White Chief," 68, will be held 10:00 a.m., Friday, August 3, 2012 at St. Stephen's Catholic Church with Father John Gaffney officiating. Interment will follow at Arapahoe Catholic Cemetery. A rosary will be held 7:00 p.m., Wednesday Aug 1st at Davis Funeral Home. Another rosary will be held 7:00 p.m., Thursday, Aug 2nd at Great Plains Hall.

Mr. Spoonhunter died July 29, 2012 at the Wyoming Medical Center in Casper, Wyoming.

He was born December 30, 1943 in Fort Washakie, Wyoming, son of Ward and Margaret (Gambler) Spoonhunter.

Alfred worked for the Economic Development Commission. He enjoyed going to the casino, watching western movies, spending time with grandchildren and great grandchildren. In his earlier years he liked boxing and participating in rodeos. Mr. Spoonhunter was inducted into the Wyoming Basketball Hall of Fame playing for St. Stephens Eagles in '59, '60, and '61.

Survivors include his daughter, Brenda Arthur; sons, Alfred and Lori Spoonhunter, Jr., Jude and Elsie Charging Crow Sr., and Ray Spoonhunter; sisters, Alice and Leonard R. Moss, Sr., Sarah and Lyle T. Black, Sr., Laura Shakespeare, Shanna Lessert, Florence Trosper, Bernice Miller, Marge St.Clair, Agnes Logan, Dee Cuch, Charlene Hoover, Joan Spoonhunter, Tillie Jenkins, Alrita TalksDifferent, Angie Hanway, Karen Spoonhunter, Jean Watt, Billie Ann Spoonhunter; brothers, Poncho Lonedog, Marlon Spoonhunter, Harvey Spoonhunter, Theron Spoonhunter, Charles Manderson, Howard Brown, Sr., Ron Spoonhunter, Garrett Spoonhunter, Lyle Spoonhunter, Terry Spoonhunter, Burton Hutchinson, George Spoonhunter, Martin Spoonhunter; grandparent, Saul Birdshead; grandchildren, Brittany Spoonhunter, Young Chief Lone Bear, Sterling Spoonhunter, Bliss Spoonhunter, Ophelia WhiteSinger, Ashley Norse, Clayton Wallowingbull, Amaya Lone Bear, Good Lance Lone Bear, Devon Wallowingbull, Devonna Wallowingbull, Clayton Wallowingbull, Jr., Jude Charging Crow, Jr., Sharon Charging Crow, Shawna Charging Crow, Stanley Shakespeare, Jori Lamebull, Summer Spoonhunter, Angel Spoonhunter, Reiley Spoonhunter, Brytan Spoonhunter; Godmother, Geraldine Brown; nieces, Alvinita Lamebull, Josephine Spoonhunter, Peggy Spoonhunter, Lanette Dodge, Madonna Oldman, Wardeena Moss, Angel Bell, Karen Black, Karena Black, Kathryn Black, Kristina Wallowingbull, Charlene Gambler-Brown; nephews, Loren Shakespeare, Edd Shakespeare, Jr., Leonard R. Moss, Jr., Gary Moss, David Black, Chris Black, Alden Spoonhunter, Stanford Washington; sisters-in-law, Dorothy Gambler, Jessie Spoonhunter, Sarah Belt and his special friend, Lynda Noah, close friends, Tom Atwood and Chuck WIlson.

Mr. Spoonhunter was preceded in death by his parents, brother, Stanley Spoonhunter, brother, Adam H. Spoonhunter, son, Howard Spoonhunter, Rhea Spoonhunter, brother-in-law, Edd M. Shakespeare, Sr., nephews, Alfred "Griz" Shakespeare, Dean Moss, Jerry Moss, Alvin Spoonhunter, Darwin Spoonhunter, Sr., Stanley Spoonhunter, Jr., Lyle T. Black, Jr., niece, Luci Moss, Nancy Spoonhunter, Jay Dean Spoonhunter aka Leonard Jay Whiteman, and Wardina Spoonhunter. Services are under the direction of the Davis Funeral Home of Riverton.

On-line condolences for the family may be made at: theDavisFuneralHome.com.