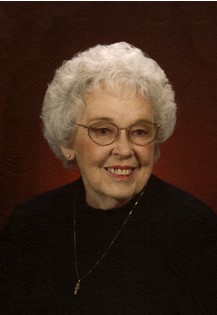 Berethe "Bee" Shepherd
Dec 20, 1918 - Aug 6, 2012
Berethe "Bee" Patricia Shepherd 93, of Riverton died August 6, 2012 at Wind River Health Care Center in Riverton.

Mrs. Shepherd was born December 20, 1918 to Aaron Henrik and Clara (Williams) Bergstrom in Almont, N.D.

Funeral services will be held 10 a.m. Monday, August 13, at Trinity Lutheran Church, with Pastor David Magruder officiating. Burial will follow at Mountain View Cemetery in Riverton.

Her family would appreciate memorial donations to Trinity Lutheran Church or the Trinity Lutheran School.

Mrs. Shepherd grew up in Almont, N.D. where she attended school until the 11th grade, moving and graduating from High School in Hebron, N.D. She had lived in Thermopolis, Laurel, Montana, Seattle, Washington, and Bellevue, Washington, before moving to Riverton in 1951.

In 1939 she married Carl A Morris in Thermopolis, WY. They later divorced.

She married Marion T. Shepherd on May 24th 1952 in the Trinity Lutheran Church in Riverton.

She was an active member of Trinity Lutheran Church including Dorcas Society, Sunday School Teacher, and LLL.

She was a member of the Grange, VFW Auxiliary, State Commander of DAVA, Good Sam Club, National Campers and Hikers and the Holiday Rambler RV Club.

Her family said she enjoyed to knit and crochet, traveling in her RV, visiting family, and when her husband was alive, she attended various veteran's reunions with him.

She is survived by her son, Thomas (Carol) Shepherd of Gillette, WY; daughters, Pat (Dick) Smith of Riverton, WY, Vonnie (Rick) Cisar of Mt. Vernon, WA, and Zoe Shepherd, her husband, James Hoch of Tuscon, AZ; her brother, Howard Willman of San Jose, CA; her sister, Zoe Louton of Beatrice, NE; and grandchildren, Greg Smith, Matt Smith, Shawna Prevedel, Rick Rodarte', Sam Rodarte', Toni Cisar, Sara Olsen, and Andrew Shepherd.

She was proceded in death by her husband, Marion T. Shepherd in 1989, her parents, sister, Ruth Short, and brothers, Clifford Bergstrom, Erling Willman Jr., and Russ Willman.

On-line condolences for the family may be made at: theDavisFuneralHome.com.