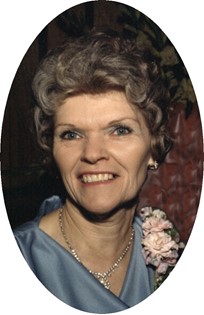 Edna Louise Schilling
Aug 9, 1924 - Aug 15, 2012
Edna Louise Schilling, 88, of Riverton, passed away on Wednesday, August 15, 2012 at Riverton Memorial Hospital surrounded by her family.

Graveside services will be held on Monday, August 20, 2012, at 2:00 pm at Mountain View Cemetery. Services are under the direction of Davis Funeral Home.

Edna Louise Dennis was born on August 9, 1924 in Shawnee, Wyoming, to Foster Emmet Dennis and Ethelyn (McVey) Dennis. Edna was the youngest of three girls and often said that she loved being the baby and having her sisters spoil her.

Edna attended schools in Douglas, WY and Centralia, WA. In 1947, she moved back to Wyoming were she met John Schilling, who had just returned from WWII. They married on February 24, 1947 in Casper, WY.

They started their family a year later with the arrival of daughter, Linda, then Carol, and later son, Willie. All three knew that they were the apples of her eye. Her family said she was a truly beautiful person both inside and out. She was a wonderful daughter, wife, mother, grandma, great-grandma, and great-great-grandma.

Edna enjoyed reading, sewing, cooking, family activities, picnics, yard work and took special pride in her flowers.

Irish thru and thru, green was her favorite color. On St. Patrick's Day, she always asked the kids if they were "Wearin the Green?" and they had better answer, "YES"!

In the latter months of her life she often said that she carried all of her family in her heart.

Her family loved her frequent laughter, chatter, her funny sense of humor, her kindness, beautiful blue eyes, engaging smile, and most of all her big loving heart.

Edna is survived by her husband, John "Johnnie"; son, Willie J. Schilling and his wife Kathy of Riverton; daughters, Linda Simon and her husband Greg of Riverton, and Carol Westmoreland and her husband Mark of Nevada; four grandchildren, Christian and Brian Simon, Cody Schilling and wife to be, Kaylan, Brianna Schilling and husband to be, Tyler Larsen; two great-grandchildren, Adam Simon and wife Adelle, and baby Schilling on the way; and one great-great-grandchild, Jenna Simon.

She is preceded in death by her parents and two sisters.

Memorial donations to Help for Health Hospice would be appreciated, in care of Davis Funeral Home.

On-line condolences for the family may be made at www.TheDavisFuneralHome.com.