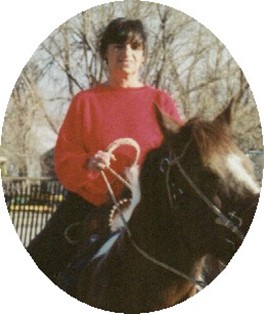 Sharon Ford
Apr 19, 1945 - Oct 1, 2012
Funeral services for Sharon Yvonne Ford, 67, will be held 2:00 p.m., Thursday, October 4, 2012 at Davis Funeral Home. Interment will follow at Mountain View Cemetery in Riverton, Wyoming. A visitation will be held from 5:00 until 7:00 p.m., Wednesday, Oct. 3rd, at Davis Funeral Home. Memorial contributions to PAWS in care of Davis Funeral Home.

Sharon died at her home on October 1, 2012.

She was born April 19, 1945, in Mandovi, Wisconsin, daughter of Anton "Tony" and Lucille (Shaw) Schneider.

In 1986, Sharon married Fairlane Dale Ford in Shoshoni, Wyoming.

She had worked as a waitress and a housekeeper. Sharon loved animals dearly and especially loved riding her horse, Patches. She also liked to decorate her home and attend garage sales.

Survivors include her husband of Riverton, son, Ron Livingston of Wisconsin; daughter, Brenda Brown of Arizona; 4 grandchildren; 3 sisters, Judy Hoage of Wheeler, WI, Nancy Frye of Whitetail, WI, Loretta Pronschinske of Winona, WI.

She was preceded in death by her parents, and grandparents, Mr. and Mrs. Clyde Shaw.

On-line condolences for the family may be made at: theDavisFuneralHome.com.

Services are under the direction of the Davis Funeral Home of Riverton.