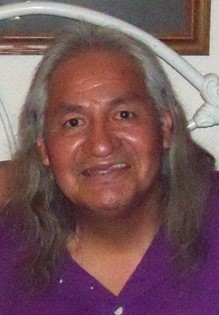 Donald Robert Brown-Wallowingbull
Feb 17, 1957 - Oct 8, 2012
Donald Wallowingbull, 55, of Riverton died on Monday, October 8, 2012 at Wind River Healthcare.

Services will be held on Friday, October 12, 2012 at 10:00 am at St. Stephens Catholic Church with burial at Wallowingbull Cemetery. A rosary will be held Thursday, October 11, 2012 at St. Stephens Catholic Church followed by a wake at #6 Gas Hills Road.

Donald Robert Brown Wallowingbull was born on February 17, 1957 in Riverton, Wyoming to Thomas Brown Sr. and Martha Viola C'Bearing Brown.

He attended schools in the Riverton area when he was younger. After graduation he attended Central Wyoming College where he earned his Associates Degree in Education. He then went on to the University of Wyoming where he received his Bachelor Degree in Psychology.

He was married to Victoria Nakii and together they had one daughter, Shelly. He lost both of them in a car accident.

He was a very talented artist who loved to draw. Some of his art work is displayed in Washington D.C. and various places around Riverton. He won 1st place in a freehand artist contest in Cheyenne, WY with a drawing of John Wayne. Along with art, he liked to sing, played as a lead guitar, played the drums, went to the casino and was involved with the American Indian Movement. He also enjoyed watching football, the Bronco's , and basketball.

He is survived by his brothers, John Paul Brown, Vinnie YellowBear, and Rodney Willow; his sisters, Sylvia Dewey, Irene Harris June Ann Brown, Theresa Jones, Charolette Goggles, Gloria C'Bearing, Racheal Brown, Salina Quiver, Mary Ann Headley, and Evangeline C'Hair; nieces, Donna (Franklin) Antelope, Viola Harris, Lori Harris, Tracey Brown, Delia Dodge, Sonja Friday, Latisha Black, Wendy C'Hair, Rihanna YellowBear, Andrea YellowBear, Adene (Willie) Goggles, Twyla Dewey, Vonda Dewey, Ann Dewey, Freda Dewey, and Christie Ute; nephews, Weldon Moss, Cletus Moss, Martin Guiterrez, Thomas Brown, Felipe Guiterrez, Leland Black, Lemuel Black Jr., Mark C'Hair, Aloyisious C'Hair, Vincent YellowBear Jr., Tyson YellowBear, Dillon YellowBear, and Brent C'Hair; grandchildren, Patricia (Clinton) Burnett, Mia Brown, Onzzlynn Duran, Maylira Spoonhunter, Chandna Trippo, Natasha Harris, Shanice WhiteHair, Heeyei Dodge, Brandi Dodge, Janlyn YellowBear, Mousie, and Jositel Oldman; grandsons, Elvis Duran, Marilto S Hunter, Forrest Jr., Diego, Mescalito, Franklin, Ashton, and Deland Dewey; great-grand children, Shalayna Harrism Tanayah Burrnett, and Natayah Burnett; numerous nieces, nephews, and grandchildren, extended families of Brown, Wallowinbull, C'Bearing, and Goggles.

He was preceded in death by his parents, his wife, his daughter, his sisters, Rosemary Brown, Arlene Goggles, Ida Rose Brown, Karen Noon, Emma Armouer, Heniretta Crispin, Flora Runningshield, and Florence Bearing, his brothers, Wilbur Brown Sr., Pat C'Bearing, and Albert Paul Dresser, his brother-in-law, Marvin Hams, his nieces, Viola Brown and Karen Harris, his nephews, Baudelio Guiterrez, William Harris, Sr., Dean A. Dewey, and Leo. Dewey.

Services are under the direction of Davis Funeral Home. On-line condolences for the family may be made at www.TheDavisFuneralHome.com.