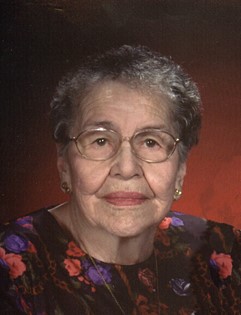 Esther "Frances" Lovato
Feb 23, 1919 - Nov 13, 2012
Funeral services for Esther "Frances" Lovato, 93, will be held 10:00 a.m., Monday, November 19, 2012 at St. Margaret's Catholic Church with father Demetrio Penascoza officiating. Interment will follow at Mountain View Cemetery. A rosary will be held 7:00 p.m., Sunday, November 18th at St. Margaret's Catholic Church. Memorial contributions to St. Margaret's Catholic School in care of Davis Funeral Home.

Frances was born February 23, 1919 in French, New Mexico, daughter of Joe M. and Floripa M. Perea.

She attended schools in Colmor, New Mexico and lettered in basketball and speech.

On December 7, 1936, she married Joseph Eloy Lovato at St. Stephen's Mission.

She had lived in the Riverton area for over 76 years. She worked for Fremont Extension, Tom Knight Theaters, The Gas Lite Resteraunt, and may other places in Riverton.

Frances enjoyed playing bingo, sewing and scrabble.

She was a member of St. Margaret's Catholic Church, Wind River Deanery, Alter Society, crusillios, RCCW, Navy Mothers and VFW Auxiliary.

Survivors include her sons, Eugene E. and Estelle Lovato and James P. Lovato, daughter Flora M. Apodaca, and sister Eloisa Walters all of Riverton; 11 grandchildren and numerous great and great great grandchildren.

She was preceded in death by her husband, parents, daughter, Eva, two sons, Eloy Jr., and Joseph, five grandchildren, four brothers, and four sisters.



On-line condolences for the family may be made at: theDavisFuneralHome.com.

Services are under the direction of the Davis Funeral Home of Riverton.