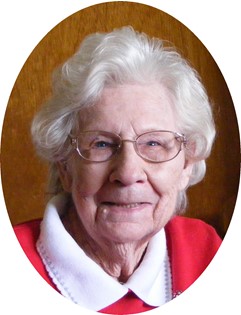 Irene Joyce Fegler
Nov 23, 1921 - Jan 5, 2013
Irene Joyce Fegler, 91, beloved wife, mother and grandmother, lost a hard fought battle with Alzheimer's on January 5, 2013. She passed away surrounded by family at Westward Heights in Lander. She was admitted there on November 30, 2012 with the hope of improving and extending her quality of life.

Irene was born November 23, 1921 in Melbeta, Scottsbluff County, Nebraska to Henry and Minnie (Miller) Reichert. She was the youngest of seven brothers and sisters. Cremation has taken place.

Funeral services will be held at 10:00 a.m. on Saturday, January 12, 2013, at Trinity Lutheran Church in Riverton. Pastor David Magruder will officiate with inurnment following at Mountain View Cemetery. A funeral dinner will immediately follow at the fellowship hall of Trinity Lutheran Church.

Irene Fegler spent her growing up years in Nebraska. She graduated from Gering High School in 1938, and immediately accepted a position at F.W. Woolworth's in Scottsbluff. She held many positions there, working her way up to Assistant Manager.

On May 2, 1944, Irene married Harry H. Fegler. They first farmed in Nebraska on the Fegler farm, but moved to Wyoming in 1945 where Harry worked on his cousin's farm growing potatoes, sugar beets and beans. In 1946, they ventured out and rented their own land. By 1950 they were able to purchase the materials to build their own farmhouse on a 40-acre home site on 17-Mile Road in upper Arapahoe. Irene and Harry remained in the farmhouse raising four children, Harlan, Sandy, Debbie and Steve, until they retired from farming and moved to Riverton in the Fall of 1976.

Irene was a homemaker, and helped on the family farm driving tractors and beet and grain trucks all the years they lived in Arapahoe. She was a 25-year member of the Wind River Homemakers Club, and served as an election judge in the Mill Creek voting district. She was an avid crossword puzzle fan and loved to read and stay abreast of current events. She was a good cook and was quick to set an extra plate for anyone who dropped in at mealtime on the farm.

In her retirement years Irene and Harry traveled in their mini home, enjoying winters in California with Irene's sisters, and summers fishing at Boysen and camping at Worthen Meadows with family. Her favorite season was Spring. She was always eager to get out in her flower beds and see what new life was popping through the dirt. As the growing season progressed, she especially enjoyed her roses.

Irene was a big fan of the Denver Broncos and the Colorado Rockies, and never missed a game on television. She knew all the players by name and always had her favorites. She also enjoyed following golf, especially Tiger Woods.

Family was everything to Irene. Her warmth, kindness, and generosity extended to her own generation as well as to her children's and grandchildren's. She is survived by her loving Husband of 68 years, Harry; Sons Harlan (and wife, Peggy) of Arapahoe, and Steve (and wife, Jeanna) north of Riverton; Daughters, Sandy (and husband, Eric) Martinez, west of Riverton, and Debbie Lucas, of Riverton; Grandchildren Thayne, Daryne (and wife, Kristi), Scot (and wife, Teffany) Fegler, Suzie (and husband, Travis) Koehn, Karri (and husband, Billy) Brost, Misty (and husband, Tony) Larvie, Robyn and Cory (and wife, Crissy) Lucas, and Jamie Fegler; Great Grandchildren Macey, KayLee, Camey, Blake, Tye and McAye Fegler, Kaitlin and Rylan Koehn, Brett and Jared Lucas, Lance, Zac and Caleb Larvie, Braden and Kamryn Brost, Step Grandchild Donald Grosch; Step Great Grandchildren Talin and Cole O'Neal, Lexy Brost, Mark Larvie; and numerous nieces and nephews.

Irene was preceded in death by her parents, her brothers and her sisters.

The family would like to extend special thanks to all the family and friends who showed their love and support during this difficult time. A special thanks to the staff at Westward Heights in Lander.

Memorials may be made to the Trinity Lutheran Church in Riverton in care of the Davis Funeral Home, 2203 W. Main Street, Riverton, WY 82501.

On-line condolences for the family may be made at: theDavisFuneralHome.com.

Services are under the direction of the Davis Funeral Home of Riverton.