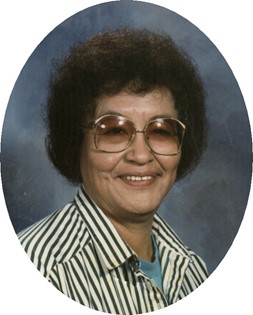 Madeline Spoonhunter
May 20, 1937 - Jan 19, 2013
Madeline Spoonhunter of Arapahoe died at her home on Saturday, January 19, 2013, at the age of 74.

Funeral services will be conducted at 10:00 a.m. Friday, January 25, 2013 at St. Stephen's Catholic Church. Interment will be at the Spoonhunter Cemetery, 1234 17 Mile Road. A feast and giveaway will follow at Great Plains Hall. A Rosary will be recited at 7:00 p.m. Wednesday, January 23, 2013 at Davis Funeral Home, with a second Rosary at 7:00 p.m. Thursday, January 24, 2013 at Stephen's Catholic Church, with a wake to follow at the family home.

Madeline Addison was born May 20, 1938 in Fort Washakie, the daughter of Burdick Addison and Susie Cora (Goodman) Addison. She attended schools at St. Stephens, WY, Albuquerque, NM and Dull Knife, MT, graduating from St. Stephens High School.

She married Robert Joe Spoonhunter in Riverton. He preceded her in death.

She had lived in Montana, Wyoming and California.

Mrs. Spoonhunter was of the Catholic faith, and participated in church activities and traditional Indian ceremonies.

She spent her lifetime as a culture teacher, and was employed by the Arapahoe School, Great Plains Headstart and Social Services. She was also a member of CSBG and an election judge.

Mrs. Spoonhunter enjoyed spending time with her family and friends, playing bingo, going to the casino and watching TV game shows.

Survivors include sons Burdick Seminole, Sr., and Stephen Seminole; adopted sons Tater Warren, John Enos, Jess Birdshead, Dominic Norse, Corey Spotted Elk, Yellowstone Addison and Jerome Goggles; daughters Teri Seminole, Johnetta Seminole and Suzette Seminole; brother John Addison; sisters Frances Dewey, Lydia Jenkins, Alice Molash and Lucy Arthur; and 32 grandchildren, Burdette Seminole, Darlynn Seminole, LaTasha Bell, Jennifer Shakespeare Teran, Johnetta Shakespeare, Jozette Limpy, Suzann Limpy, Kayla Seminole, Miracle Seminole, Thomasena Seminole, Burdick Seminole, Jr., Jeremy Means, Alvin Seminole, Corey Shakespeare, Johnathan Limpy, Jarith Limpy, Zion Sioux, Cordell Seminole, Nakowa Seminole, Taylor Seminole, Bobbie Wells and Jordin Harris; 20 great-grandchildren; nephews Matthew Charging Crow, Jude Charging Crow, Terry Spoonhunter, Lance Addison, Yellowstone Addison, Lonestar Addison, Billy Addison, Sr., Mervin Addison, Jr., and Alan Jay Addison; nieces Lori Jones, Cora Durgin, Coreen Addison, Leah Addison, Fatima Addison, Aurilda Addison, Frances Addison, Gwen Addison and Almedia Addison.

She was preceded in death by her husband Robert J. Spoonhunter; parents Burdick and Susie Addison; brothers Mervin, Tommy and Leo Addison; sister Aurilda Addison; children Alvin and Nancy Spoonhunter; grandchildren LaToya Means and Taylo Yellowfox; nieces and nephews Sally Addison, Benno StandingElk, George Addison, David Addison, Stanford Addison, Glen Addison, Hank StandingElk, Susie Spoonhunter, Shane Addison, Southernman Addison, Leah Addison and T.J. Addison.

On-line condolences for the family may be made at www.TheDavisFuneralHome.com.

Services are under the direction of Davis Funeral Home.