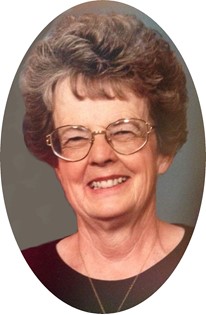 Signe Aspinwall
Jul 28, 1938 - Feb 19, 2013
Signe Aspinwall, 74, of Riverton, died at her home on February 19, 2013. A funeral service will be held on Friday, February 22, 2013 at Neighborhood Alliance Church with Pastor Kurt Niemeyer officiating at 10:00 am. Interment will follow at Mountain View Cemetery.

Signe Kay Strand was born on July 28, 1938 in Wolf Point, MT to Melvin F. and Grace E. (Stilson) Strand. She spent her youth in Montana, graduating high school from Nashua, MT in 1956. She met her husband, Jim Aspinwall, while he was in the Airforce; they were married on September 16, 1956 in Glasgow, MT. While raising their three children they lived in Florida, Colorado, Nevada and finally Wyoming in 1971 where she lived until her passing. While in Nevada she received her Bachelor's Degree from Nevada Southern University with the class of 1970.

After moving to Riverton, she taught geography at Riverton Junior High and was also a School District 25 Title 1 Coordinator. After 25 years in education she retired.

Although she was retired she kept busy with playing bridge, reading, gardening, meeting good friends and exercising at Curves, volunteering at Neighborhood Alliance Church and at Abba's House where she was a past director as well.

She was a member of the Neighborhood Alliance Church where she was a Deaconess, a Sunday school teacher, and served on the church board. She also hosted a Bible study group in her home for 23 years as well as a women's Bible study on Tuesday mornings.

She is survived by her son, Philip Aspinwall of Riverton; her daughter, Deborah Coleman and her husband David of Huntsville, AL; her sister, Phylis Smith of Colorado Springs, CO; her brothers, Palmer (Patricia) Strand of Spokane, WA and Robert (Margaret) Strand of Quesnel, B.C. Canada; grandchildren, Christopher Coleman, Alexis Coleman, William Peterson, and Nyko Claybaugh; and numerous nephews, nieces and great nephews and nieces.

She was preceded in death by her parents; her husband, Jim; her daughter, Glenna Claybaugh; her sister, Petra Siemens; and her brothers, Melvin Strand and Kenneth Strand.

Memorials may be made to Abba's House or James B. and Signe K. Aspinwall Memorial Scholarship Fund at the Neighborhood Alliance Church in care of Davis Funeral Home at 2203 West Main Street, Riverton, WY 82501.

Arrangements are under the direction of the Davis Funeral Home. On-line condolences for the family may be made at www.TheDavisFuneralHome.com.