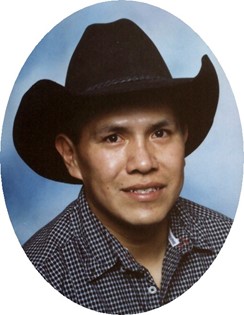 Sterling Howell
Jul 2, 1976 - Mar 8, 2013
Sterling J Howell, Sr., died on Friday, March 8, 2013, at Riverton Memorial Hospital. Services will be held on Tuesday, March 12, 2013, at 10:00 am, at St Stephens Catholic Church. Burial will follow at the Arapaho Catholic Cemetery. A rosary will be held at Great Plains Hall on Monday, March 11, 2013, at 7:00 pm. A wake will follow at 1115 17 Mile Road in Arapahoe at 7:00 pm.

Sterling John Howell, Sr. was born on July 2, 1976, in Riverton, to Gordon Howell and Julia Brown.

He was a member of the Native American Church and practiced the Arapaho Traditional Ceremonies. He was also of the Catholic faith.

He attended grade schools in Arapahoe and St. Stephens. He graduated from Wyoming Indian High School in 1994. He then went to Southwestern Indian Polytechnic Institute for a year on a running scholarship for the Cross Country Team. While in high school he was a Senior Class Representative for Student Council and in the Art Club. He was the first student ever to be a part of a presentation in Washington D.C. called "Chapter II National Conference on Education" for his artwork. He represented the state of Wyoming and Wyoming Indian Schools. He was also Wyoming Indian High School first Cross Country State Champion in 1992. In 1990 and 1992 his Cross Country Team were the State Champions. He was very well known for his running, in the state and nationally. Receiving numerous awards, medals and plaques for his outstanding achievements. He moved to Albuquerque, NM in November of 2003 and stayed until June 2011.

On November 20, 2000, he married Sunshine Waquie. They later divorced in August of 2011.

His family said that he enjoyed the "cowboy life", riding horses, breaking horses, a saddle bronc rider, the arena director for the Joe and Eileen Moss Memorial Rodeo. He also was involved in track and field and was a cross country runner, and loved basketball. His passion was art and he enjoyed it everyday.

He is survived by his sons, Sterling John Howell, Jr., Brandon Jermayne Howell, and Blayne Styles Howell; his parents, Martin Brown, Sr., Gordon Howell, and adoptive mother Emily Metoyer Stock; brothers, Charles R. Howell, Sr., Martin J Brown, Jr., George E Brown, Jobie Howell, and Francis Brown; his sisters, Marquerite Underwood, Cora L. Brown, and Muriel Howell; his aunts, Ursula Aragon, Maxine Moss, Susanna Oldman and Rosella Moss; his uncles, Leonard Moss, Sr. and Donald Moss.

He is preceded in death by his mother, Julia A Brown; his grandparents, Herman and Eileen Moss; his aunts Victoria Friday, Tekakwitha Sunrhodes, Eileen Joe C'Bearing, Delores Moss; his uncle Herman Moss, Jr., his niece, Lovetta Barnaby; and numerous grandparents, uncles, aunts, and cousins.