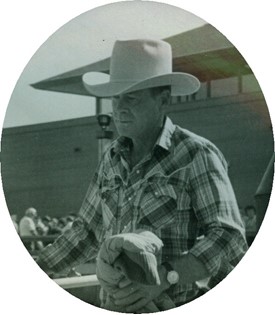 Guy W. Forbis
May 8, 1932 - Mar 21, 2013

Guy W Forbis, 80, of Riverton died Thursday, March 21, 2013, at Help for Health Hospice Home in Riverton. A memorial service with military honors will be held in the spring of 2013.

Guy William Forbis was born on May 8, 1932, northeast of Riverton, to William Roy Forbis and Eliza Amelia Harper (Wright) Forbis. He was born on the original homestead that his father staked in the Valley on Haymaker Road.

He spent his childhood on the homestead and graduated from Riverton High School with the class of 1950. He was then drafted into the Army and served until March 1954, when he received an honorable discharge.

After returning from the Army, he again worked on the family farm. On September 24, 1956, he married Mary Lou Evans in Billings, MT. Together they worked on the farm and raised their family of three boys. He spent his life raising various crops, sheep and cattle. He later started a ranching operation on Sand Draw with his sons and worked the ranch and farm until he retired in 1994.

He belonged to the American Legion and was an Honorary Chapter Farmer of the local FFA Association.

His family said he enjoyed farming, working, fishing, camping with his family at Horse Creek, playing cards and going out to the ranch on Sand Draw. The biggest joy of his life was when family, especially the grandkids would get together.

He is survived by his wife, Mary Lou of Riverton; sons, Kevin William Forbis and his fiancé Colleen Reddon, of Riverton and Ed Roy Forbis and his wife Sandy of Williams, AZ; step-son, Jim Dickinson of Cortez, CO; his brother, John Boyd Forbis and his wife Betty of Riverton; his sister, Virginia Cantrell of Riverton; his mother-in-law, Mildred Margaret Evans of Gravity, IA; his sister-in-law, Gayle Ann Christenson and her husband, Ron of ND; his grandchildren, Guy, Doug, Eadie Ann, Sarah, Whitney, Trent, Angelina, Josh and Kina, and Dan; 13 great grandchildren and one expected in August, and numerous nieces and nephews.

He was preceded in death by his parents, William and Eliza; his father-in-law, Cash Edward Evans, and two daughter-in-laws, Patty Forbis and Eileen Dickinson.

Memorials may be made to the Help For Health Hospice Home in care of the Davis Funeral Home, 2203 W. Main Street, Riverton, WY 82501.

Arrangements are under the direction of the Davis Funeral Home. On-line condolences for the family may be made at www.TheDavisFuneralHome.com.