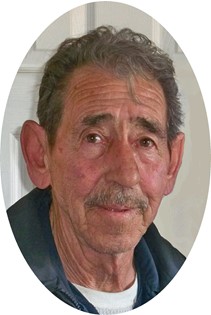 Frank Vigil, Sr.
Dec 15, 1935 - Mar 26, 2013
Funeral services for Frank Vigil, Sr., 77, of Riverton will be held 10:00 a.m., Monday, April 1, 2013 at St. Margaret's Catholic Church with Father Demetrio Penascoza officiating. Interment will follow at Mountain View Cemetery. A rosary will be held 7:00 p.m., Sunday, March 31st at Davis Funeral Home.

Frank died March 26, 2013 at the Riverton Memorial Hospital surrounded by family and loved ones.

He was born on December 15, 1935, in Cimarron, New Mexico, son of Brigido and Angelica (Moya) Vigil. Frank moved to Riverton with his family in 1950 from New Mexico to do agricultural work and attain his schooling. He remained in Riverton for the remainder of his life.

Mr. Vigil married Norine Duran and had 6 children from this union. They later divorced, but remained close friends.

He worked as a carpenter and later as a superintendent for several construction companies in Riverton. He was known to be a good finish carpenter and enjoyed repairing small engines, home repair and yard work. He was an excellent woodworker and made several intricate wood-gear pendulum clocks.

Mr. Vigil was a member of the Fraternal Order of Eagles.

Survivors include his sons, Frank Vigil, Jr., Michael F. ( Anita K) Vigil and Peter G. Vigil; daughters, Donna Lopez, Katherine F (Thomas M Sr.) Schatza, and Marilyn M. Vigil; 11 grandchildren, Novara L Marburger, Desiree M Born, Eric R Lopez, Christopher L Lopez, Jared Baldes, Angeline M Baldes, Nickolas Michael Vigil, Thomas A Schatza Jr, Tracy Ann Daly, Carolyn A Vigil, and Samantha R Vigil; and 15 great grandchildren; brothers, Emilo, Anthony, Charlie and Jim Vigil; sisters, Annie Mejorado, Fidelia Lopez, Nancy Carrizales, Susana Lawson, and Marilou Vaughn.

He was preceded in death by his parents, 2 brothers, Dan and Bonefacio Vigil; his sister, Beneranda Hernandez; and great grandson, Seanan Daly.

On-line condolences for the family may be made at: theDavisFuneralHome.com.

Services are under the direction of the Davis Funeral Home of Riverton.