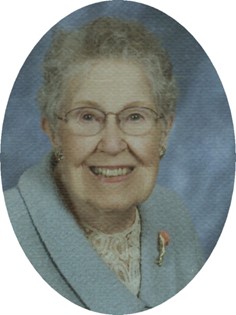 Lillian "Lil" LeGro
Mar 26, 1910 - Mar 27, 2013
Lillian LeGro, of Riverton, died Wednesday, March 27, 2013. She was 103 years old.

At her request, cremation has taken place, and a memorial service will be at 10 a.m. Saturday, April 6, at the Riverton United Methodist Church. Lillian LeGro was born March 26, 1910, in Chicago, the daughter of Otto E. and Bessie LeGro.

Ms. LeGrow and her younger sister, Mary, lived together, vacationed around the world together, and eventually moved together to retire in Riverton. Neither sister ever married.

Ms. LeGro excelled in three different vocations. As a graduate of the Chicago Academy of Fine Arts, she was a professional designer and maker of beautiful dresses for women in the fashion world.

When World War II began, she went into "war work." At that time, thousands of women in the United Stales were employed in industrial manufacturing, replacing men who had gone to the armed services. Such women were engaged in the production of parts for military machines and equipment.

After the war, Ms. LeGro worked in several Chicago businesses in the payroll and accounting departments.

She was honored by her employers for 25 years of outstanding achievement in her profession.

The LeGro sisters moved to Wyoming in 1978. Having previously visited the state, they selected Riverton as their choice of location. They bought a house,gardened and spent many fruitful years cultivating friendships in the Methodist church and larger community.

After Mary died in 2005, Ms. LeGro moved to Riverton's Owl Creek Apartments, where she lived until December 2012. At that time, her failing health caused her to move into Riverton Help for Health Hospice Home. Up until the time of her death, Ms. LeGro maintained a network of friends, including Riverton residents and several acquaintances in other states.

In lieu of flowers, memorials may be sent to the United Methodist Church of Riverton.