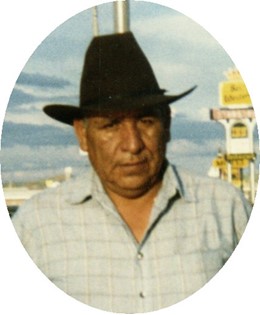 O'Dell Shakespeare
Apr 22, 1943 - Mar 31, 2013
O'Dell R Shakespeare, 69, of Arapahoe, died at the Lander Regional Hospital on Sunday, March 31, 2013. A rosary will be held on Tuesday, April 2, 2013 at 7:00 pm at Davis Funeral Home and a second rosary will be held on Wednesday, April 3, 2013 at the St. Stephen's Catholic Mission. A wake will be held on Wednesday, April 3, 2013 starting at Eagle Hall and 31 Great Plains. A funeral mass will be held on Thursday, April 4, 2013, at 10:00 am at St. Stephen's Catholic Mission. Father David J Erickson will officiate. Burial will follow at the Arapaho Catholic Cemetery.

O' Dell Russell Shakespeare was born in Ft. Washakie, WY on April 22, 1943 to John and Nellie (Friday) Shakespeare. He was given his Indian Name, "COYOTE ROBE" -KO'OH HIITOU. He lived his entire life on the Wind River Reservation.

He was of the Catholic faith.

He worked for the Northern Arapaho Tribe Utilities as a heavy equipment operator. He also worked in the construction field.

His family said that in his younger years, he liked to ride horses. He also enjoyed watching old western movies, spending time with his family and friends talking about the "good ole days". He loved being with his grandchildren and especially cooking eggs with his grandson "Boss".

Survived by his wife of 26 years Amelia Shakespeare and their daughter Nellie Shakespeare. Son Gaylen Littleshield and wife Shawna and their children Shianna, Boss, Cruz, and Odell-Shine Littleshield and her son Tyberius Black. Son James "Cy" Lee and his children Ciara, Marquel, and Londell Duran and Nicolle Lee and her son Aisen Chee. Son Thomas Shakespeare and wife Chalice and his children Arron, Dana and Thomas "Timmy" Shakespeare. Son Dominic Littleshield Son Dallas Littleshield and his daughter LaRae Littleshield and her son Deidray Blackburn. Son Brian Littleshield and his children DJ Littleshield and companion Dee Brockie and their daughter Chiara Littleshield. Donelle Littleshield and her 3 children, Donavan and Dominique Littleshield. Son Fergie Littleshield and his children Patrick, Dean, and Skyler Littleshield and his companion, and their daughter MorningSky. Grandaughter Tiera Gram and 3 siblings. He is survived by his brothers, Kenneth "Bobby" Shakespeare, LeRoy Shakespeare, and Hugh Ridgley; his sisters, Bernice Watan, Jessie Spoonhunter, Alene Shakespeare, Amelia "Amy" Underwood, and Lettie "June" Spoonhunter. He is also survived by numerous nieces, nephews and grand and great grand children. He is also survived by the Trosper Family, the Shakespeare Family, and the Friday family.

He was preceded in death by his parents, his daughter, Vicki Mason; brothers, Edd "Turkey" Shakespeare, Richard "Big Rock" Shakespeare, Nickerson Shakespeare, Stanley Spoonhunter, Eugene Ridgley Sr., Carl Headley, Wilbur Headley, Stewart Wallowingbull, Vincent Underwood, Sr. and Arnold Headley.

Services are under the direction of Davis Funeral Home. On-line condolences for the family may be made at www.TheDavisFuneralHome.com.