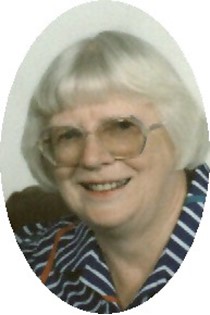 Ruth Schierwagen
Aug 27, 1928 - Apr 4, 2013
Funeral services for Ruth Irmgard Schierwagen, 84, will be held at 2:00 p.m., Tuesday, April 9, 2013 at Davis Funeral Home. Interment will follow at Mountain View Cemetery. Visitation will be held from 1:00 p.m. until service time on Tuesday. Memorial contributions to the Little Wind Hospice or to the Cornerstone Church would be appreciated.

Mrs. Schierwagen died on April 4, 2013 at Riverton Memorial Hospital.

Ruth was born August 27, 1928, in Hillside, NJ, daughter of Walter and Herta Kaiser. Her school years were spent in Mount Vernon, New York, where she also graduated in 1947 from Davis High School.

On May 16, 1952, she married Arnhold Schierwagen.

Mrs. Schierwagen worked as a typist at the Engineering Library in New York City. She then worked as a typesetter for a commercial printing firm in Pearl River, NY. Upon retiring, the couple moved to Riverton.

Ruth studied music since she was 6 years old and played the piano, violin and pipe organ. She was an organist and music director for fifty years. She enjoyed Bible study classes, music, reading, crafts and meeting with friends and family.

She was a volunteer for Riverton Memorial Hospital as a treasurer and several other duties since 1989. She also volunteered for Little Wind Hospice since the beginning in 1994. Ruth worked at most health fairs and craft fairs. She was active in the Baptist Church.

Survivors include her sons, Ernie and Glenda Schierwagen of Riverton and Paul Schierwagen of Eldred, NY; daughters, Elizabeth and her husband, Dale Chance of Brookville, OH, Millie Hoffmann of Riverton and Dorothy and her husband, Chuck Jones of Middletown, NY; 8 grandchildren and 9 great grandchildren.

She was preceded in death by her husband, and parents and one sister.

On-line condolences for the family may be made at: theDavisFuneralHome.com.

Services are under the direction of the Davis Funeral Home of Riverton.