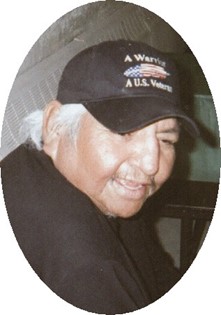 Kendall Moss, Jr.
Sep 17, 1958 - Apr 5, 2013
Kendall Moss Jr., 53, of Riverton died on Wednesday, April 3, 2013 at Riverton Memorial Hospital. Funeral services will be held on Tuesday, April 9, 2013 at 10:00 am at St. Stephen's Catholic Church. A rosary will be held at St. Stephen's Catholic Church on Monday evening at 7:00 pm. A wake will follow at 1512 Bitterroot Drive in the Beaver Creek Housing. Burial will be at the Arapaho Catholic Cemetery.

Kendall Joseph Moss, Jr. was born on Wednesday, September 17, 1959 in Lander, WY to Kendall Joseph Moss Sr. and Ivora (Antelope) Moss. He lived his entire life on the Wind River Reservation.

He was a rough neck in the oilfields.

On March 20, 1986, he married Glenda Mona Shakespeare in Lander, WY.

His family said he enjoyed going to the casino and to the mountains fishing. He loved spending time with his family and grandchildren.

He is survived by his wife, Glenda Mona Moss; his sons, Mitchell Moss, Kaylo J Moss, and Kendall J Moss III; his daughters, Deidre L Moss and Jennifer R Shakespeare; his step-mother, Rachael Brown; his ceremonial grandfather, Jesse Amos; his grandmother, Virginia Antelope; father-in-law, Leroy Shakespeare, Sr; brothers, Darrell Moss, Sr., Cletus Moss, Weldon D Moss, II, Raphael Norse, Martin Gutierrez, Arland Moss, Ronald Moss and Thomas Brown, Sr.; his sisters, Rebecca Moss, Eliza Moss, Rhonda McCabe and Tracy Duran; his uncles, Leonard R Moss, Alonzo Moss, Sr., and Donald Moss; his aunts, Susanna Oldman, Rosella Moss, Ursula Aragon, Maxine Moss, Joetta Brown, Anita Carrier, Gloria Wheeler, Uncle Nelson Moss and Ardith Addison; his sister-in-laws, Ronda Headley and Germaine Shakespeare; his brother-in-law, Lonny Shakespeare; and 18 grandchildren.

He was preceded in death by his parents; his brothers, Wendall G. Moss, David R Moss, Sr., Baudelio Gutierrez, and Weldon H Moss; his son's, Steven L Moss and Shane D Moss; his paternal grandparents, Herman J Moss Sr., Rosie B Moss, and Eileen Moss; his maternal grandparents, Joseph and Lillian Antelope; his uncles, Weldon D. Moss, Medrick H Moss, Sr., Herman J Moss, Jr., Fredrick Antelope Sr., Kenneth Antelope, Floyd Antelope, and Joseph S Antelope; his aunts, Victoria Friday, Julia Brown, Tekawitha SunRhodes, Delores Moss, and Eileen C'Bearing; his first cousins, Lance Corporal Amanda Carrier, Rodney Jorgensen, Mary Jane Blackbird, Mitchell P. Moss and Sterling Howell Sr.

Services are under the direction of the Davis Funeral Home. On-line condolences for the family may be made at www.TheDavisFuneralHome.com.