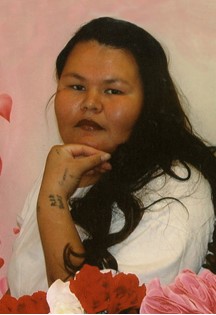 Camille Goodman
Apr 22, 1982 - Apr 7, 2013
Camille Goodman, 30, of Riverton, died on April 7, 2013. A rosary and wake will be held on Thursday, April 11, 2013 at 1613 17 Mile Road. Funeral services will be held on Friday, April 12, 2013, at 10:00 am at St Stephen's Catholic Church. Burial will follow at the Arapaho Catholic Cemetery.

Camille Tonia Goodman was born in Riverton, WY on April 22, 1982, to Perry Dean Blackburn and Brenda Kay Goodman. She attended Arapahoe Elementary School and St. Stephen's High School. She spent her entire life on the Wind River Reservation.

Her family said she enjoyed writing, listening to music, watching movies, going to the casino and going to the lake. She loved spending time with her children and family and attending family get togethers.

She is survived by her children, Andre Goodman and Quelenna Chavez; her companion, Shawn Ferris; her mother, Brenda Goodman; her grandmothers, Donna Goodman and Ruby Blackburn; her brothers, Edward J Blackburn, Bronson Blackburn, Roman Dewey, Lakota Piper and Winterhawk Goodman; her sisters, Margaret Goodman and girls, Tashina Goodman and family, and Nicole Goodman and family; her aunts, Arlene Goodman, Elizabeth Goodman, Becky (John) Kuka, Geradine Blackburn, Sherry Blackburn, Mona Blackburn, Yvette Blackburn, Cystal Blackburn, Robin Blackburn, Leslie Sixtoes, and Sarah (Norman) Willow; her uncles, James Goodman, Darrell (Cami) Goodman, Mitchel Warren, Gabriel Warren, and Ronnie Kane; her cousins, Shaliaya Wolfname, Therese (Johnny) Robertson and family; Travis Warren, Mallorie (Brett) Martel and family, Jamie Goodman, Jolene (Orren) Janis and family, Edward (Lina) Raigosa and family, Leonard (Samantha) Raigosa, James Goodman, Jr., Misti Duran, Winn Baker Goodman, and John W Goodman; her extended family, LoneBears, Littleshields, C'Bearings, Browns, Lonedogs, Jenkins, Sages, Carlsons, Spoonhunters, Guerue, Bushyheads, Deweys, Seminols, and Willow.

She was preceded in death by her son, Carlos Goodman; her father, Perry Blackburn; her grandfathers, Jimmy Blackburn and John Goodman; her grandparents, Edward and Shirley Blackburn; her uncles, Steve Moss and Gary Blackburn, Sr.; her nephew, Darrell Joshua Hanway; and her cousin, Theodore Roigosa.

Arrangements are under the direction of the Davis Funeral Home. On-line condolences for the family may be made at www.TheDavisFuneralHome.com.