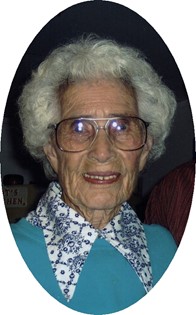 Hazel Schlenske
Sep 25, 1917 - Apr 14, 2013
Hazel Portwood Schlenske died on Sunday, April 14, 2013 at Morning Star Manor in Ft. Washakie. Funeral services will be held on Friday, April 19, 2013 at 2:00 pm at Davis Funeral Home. Rev. Bob Conley will officiate. Burial will follow at Mountain View Cemetery. A family viewing will be held on Thursday, April 18, 2013, at 6:00 pm to 8:00 pm at Davis Funeral Home.

Hazel Portwood Schlenske was born on September 25, 1917 to Jess and Esther (Collins) Chamberlain on the Wind River Reservation. She was the oldest of 13 girls. She helped in raising her younger sisters. At the time of her death, Hazel was the oldest living enrolled member of the Northern Arapaho Tribe.

Hazel loved spending time with her family of which they all enjoyed listening to her many stories. She loved working in her yard, camping, fishing, and making dolls. She often spoke of the Indian Way and how proud she was of her Indian heritage.

She is survived by her two children, Homer (Dot) Hunsberger and Edee Bennett; her three sisters, Fern, Darlene and Ann; her grandchildren, Jason (Janet) Hunsberger of California, Tammy (Bobby) Brown of Montana, Mike (Barbara) Poggis, Denise Poggis, Kristal (Troy) Eckley, Kevin Bennett all of Riverton, Homer Grant (Tina) Bennett of Afton, Robbie (Tracy) Bennett of Laramie, and Denise Hunsberger of Riverton; 22 great grandchildren; 14 great great grandchildren; and numerous nieces and nephews.

She was preceded in death by her parents; her husbands; 9 sisters; son-in-law, Travis Bennett, and grandson, Rocky Hunsberger.

Services are under the direction of Davis Funeral Home. On-line condolences for the family may be made at www.TheDavisFuneralHome.com.