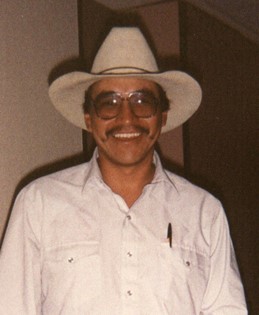 Thurlo Jenkins, Sr
Feb 5, 1959 - Apr 13, 2013
Thurlo Jenkins, 54, of Riverton died at Lander Valley Hospital on Saturday, April 13, 2013. A rosary will be held on Thursday, April 18, 2013 at 7:00 pm at Great Plains Hall followed by a wake at his home located at 1520 Quiver Lane in Riverton. Funeral mass will be on Friday, April 19, 2013 at 10:00 am at Blue Sky Hall. Burial will follow at the Yellow Calf Cemetery. A carry in dinner will follow at Great Plains Hall.

Thurlo James Jenkins, Sr. was born on February 5, 1959 in Thermopolis to Lloyd Claude Jenkins and Marjorie " Peggy" O'Neal. He was an enrolled member of the Northern Arapaho Tribe and was given the Indian name of Red Horse Chief.

He spent his life on the Wind River Reservation. He attended schools at St. Stephen's, Marty Indian School in South Dakota and Kicking Horse Job Corps in Montana.

He was a member of St. Stephen's Catholic Church. He also participated in the Native American Traditions.

His family said that he loved spending time with all of his grandchildren, visiting with friends and family, and cowboying. His passion was for horses and everything involved with them. He also road bare back and enjoyed rodeos. He always had a unique nickname for everyone.

He worked as a bus driver for Wyoming Indian High School for a number of years, served on the Arapaho Tribal Committee, drove truck for Ryan Brothers Trucking from Thermopolis, worked as a cowboy on the Arapaho Ranch and most recently was elected to the Northern Arapaho Business Council.

He is survived by his sons, Isaac Jenkins and Thurlo J (Viola Oldman) Jenkins, Jr., his daughters, Sylvia Jenkins, Caroline Marie Jenkins, Teryl (Jason Sr.) Myhre, and Ashlyn Jenkins; his grand children, Tyrel R. Myhre, Taylor J. Myhre, Jason C. Myhre, Jr., Nizhoni Jenkins, Thurlo Jenkins III, and Kixinay (Angel) Jenkins; his brothers, Clarence Jenkins, Darrell O'Neal Sr., Aloysius C'Bearing, Sr., Bobby C'Bearing, Terry Tiger, Dennis O' Neal, Kelly O'Neal, Patrick O'Neal Jr., George P. O'Neal, Nicholas Corpuz, Delmont Shakespeare, Sr., Raymond Shakespeare, Charlie Pimms, Hubert J Warren Jr., Paul H. Warren, Sr., Jude John Jenkins, Mike Jenkins, and Ryan Gambler, Sr.; his adopted brothers, Steven Headly, Leonard Moss, Jr., Sanford Friday, and Bender Nacota; his sisters, Caroline Hill, Marie Jenkins, Judy Warren, Belinda Warren, Kathleen Warren, Pauline Polen, Catherine, Lucy, Michele and Claudia Jenkins, Lynelle Shakespeare, Karen Hebah, Molly Holt-O'Neal, Susie Presgrove, Colleen O'Neal, Zoelynn Tiger, Kelly Tiger, Gwen C'Bearing, Jody Pimms, LaWayne Esponiza, Charlene O'Neal, Vicky Shakespeare, Vernita Shakespeare, Ann Shakespeare, Salome Blackburn, Francine LoneBear, and Denise Bearing; his uncles, Kenneth Shakespeare, Matt Tiger, Max Corpuz, Ed "Bobby" Behan, Leonard J. Moss, George Moss and Patrick O'Neal, Sr.; his aunts, Lydia Jenkins, Valene Revere, Caroline Tiger, and Katherine Corpuz; his godson, Adrian Spotted Elk; and numerous grandchildren, nieces and nephews.



He was preceded in death by his parents, Lloyd C Jenkins, Sr. and Marjorie "Peggy" Jenkins' his brothers, Lloyd "Sonny" Jenkins, Jr. and Bernard "Jubal" Jenkins; his sisters JoAnn Jenkins, Soularie and Josephine Lottie Jenkins; his paternal grandparents, Thurlo Jenkins and Amanda (Wanstall) Jenkins; his maternal grandparents, William Patrick O'Neal and Caroline (Friday) O'Neal; his nephew, Vidale "Blaze" Jenkins; his niece, Muriel Kelly Soularie; his grandson, Marcus Thunder; and his god daughter, Morgan Dewey.

On-line condolences for the family may be made at www.TheDavisFuneralHome.com.

Services are under the direction of Davis Funeral Home.