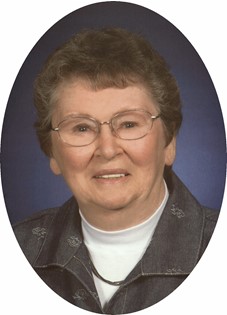 Patricia Mathey
Sep 30, 1925 - Apr 18, 2013
Patricia "Pat" Mathey died on April 18, 2013 in the early morning at Lander Valley Medical. There will be a viewing held on Monday, April 22, 2013 from 6:00 pm to 7:00 pm at Holy Rosary Catholic Church in Lander. A rosary will follow the viewing at 7:00 pm. A funeral mass will be held at 10:00 am on Tuesday, April 23, 2013 at Holy Rosary Church in Lander. Followed by internment, observed by family, at Mount Hope Cemetery. The family invites all to attend the lunch at Holy Rosary Church.

Patricia Rita Young was born on September 30, 1925 to Sam and Harriet (Denisson) Young, dairy farmers in Northern Wisconsin. She was the youngest of ten children. She graduated from high school in Oconto, WI in 1943 and graduated from "Teacher's College" in Marinette, WI in 1945. She then taught rural school, grades 1 thru 8, for four years.

In 1947 she married Dan Mathey in Wisconsin. In 1960 they moved with their four children to Lander, where they had a logging operation. When Dan died in 1962 she proceeded to raise her family in Lander. After the children were grown and she became older, she was a significant stone in the bedrock of Lander's senior citizen community.

Pat was a life long member of the Catholic Church. She was an active member of St. Ann's Alter and Rosary Society.

Her family said she loved animals, nature, and the outdoors. She loved the Green Bay Packer and enjoyed the Denver Broncos as well as all types of sports. Her family said she always played pinochle and may still be playing. Most of all she loved spending time with her children and grandchildren, whom she adored.

She is survived by her four children, Jane (Wayne) Moodie of Panama, Richard (Randy) Mathey of Green River, Gale (Andy) Pleasant of Green River and Scott Mathey of Brookings, OR; her six grandchildren, Julie Mathey, Danielle Mathey, Rachael Fisher, Mattson Mathey, Cody Johler and Quentin Johler; one great grandchild, Aurora Fisher, age 4 months; one brother; and numerous nieces and nephews.

She was preceded in death by her husband, Dan, in 1962; her parents; two sisters and six brothers.

Services are under the direction of Davis Funeral Home. On-line condolences for the family may be made at www.TheDavisFuneralHome.com.