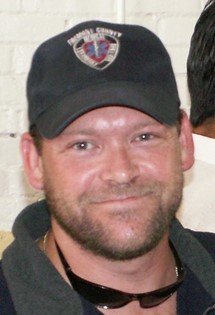 Vance Reed
Apr 12, 1969 - Apr 20, 2013
Vance Reed, 44, of Riverton, Wyoming died on Saturday, April 20 2013, at Riverton Memorial Hospital. Cremation has already taken place. The family will hold a fried chicken potluck at Lander Northside Park on May 11th at 2:00pm and is open to all friends and family.

Vance Sheridan Reed was born on April 12, 1969, in Lander, Wyoming to Larry Orville Reed and Delylah Cleo (Adams) Felton. He grew up in Lander and attended school there. During his early 20's, he traveled extensively for work; he ended up settling in Montana, where he received his GED, then back to Wyoming to take care of family.

He was of the Christian faith.

He worked with NuWay Catering while in high school, was a karaoke DJ, heavy equipment operator, cook, EMT and a kitchen manager for a nursing facility.

He took great pride in his high school wrestling career and also coached as an adult. He loved cooking, hunting, and was considered a shark by his pool league. Aside from singing for his church congregation, he enjoyed performing karaoke in multiple genres of music which added to his colorful personality. He was always the life of the party and encouraged everyone else to join. He was very proud of his children and they said he would give his last dollar to help someone else.

He is survived by his daughters, Ashley Reed, Jennifer Reed, and Elizabeth Reed; his sons, Vance Sebastian Reed and Christian Reed; his grandson, Cooper Uhl; his mother, Delylah Felton; his brother, Shane Reed; his sisters, Becky Reed and DeAnna Dupea; his nephews, Justin Reed and Josh Dupea; and his nieces, Megan Reed and Gina Reed.

He was preceded in death by his father, Larry Reed; his stepmother, Sandy Reed; and his infant daughter, Ariel Leanne Reed.

The family asks that any donations be made to the family to help with funeral expenses. There will be a basket for donations to be placed in at the gathering in Lander, or they can be mailed to Ashley Reed at 2307 W Foothills Dr., Missoula, MT 59803.

Arrangements are under the direction of the Davis Funeral Home. On-line condolences for the family may be made at www.TheDavisFuneralHome.com.