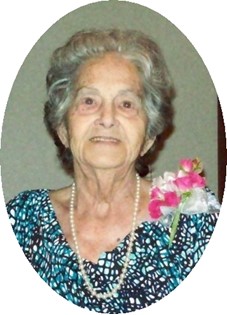 Alice Thompson
Aug 1, 1932 - May 6, 2013
Alice Thompson, 80, of Riverton died on Monday, May 06, 2013 at Riverton Memorial Hospital. As were her wishes, cremation has taken place. A memorial service will be held on Wednesday, May 8, 2013, at 2:00 pm at Davis Funeral Home. Pastor Robin Stupka will be officiating.

Alice Maria Dutra was born on August 1, 1932 in Port Smith, Rhode Island to Henry Castro and Mary (Furtado) Dutra. She attended the Abby, a private Catholic girl's school, in Port Smith, Rhode Island. She was a member of the choir, which sang at John F Kennedy's wedding.

She was of the Catholic faith and attended both St Stephen's and St Margaret's Catholic Churches.

On October 22, 1957 she married Richard Thompson in Newport, Rhode Island. They lived in Fort Pierce, Florida before moving to Wyoming forty years ago, where they raised their five children.

While in Fort Pierce, FL, she worked as the executive assistant to the Head Coach at the Dan McCarty high school. After moving to Riverton she, worked many years as a day care provider. She was the head waitress at the Sundowner for many years before retiring at the age of 65.

Her family said she was an avid bingo and gaming player. She loved cooking, watching basketball and pro bull riding. Above all she loved being with her family, kids, grandkid, and truly loved people and visiting.

She is survived her sons, Richard (Lynn) Thompson of Rock Springs, WY and Alexander (Kathleen) Thompson of Hettinger, ND; her daughters, Becky (Bill) Wieser of Riverton, WY, Pam (Darrell) Lone Bear of Riverton WY, and Kathleen Svilar of Riverton, WY; her brother, George Dutra; her sisters, Madeline Dutra Souza and Linda Dutra; her grandchildren, Amanda Piercy,Blair Piercy, Lois Lebsack, Trey Thompson, Ryan Thompson, Jessie Thompson, Joey Thompson, Kyle Bertrand, Cassity Bertrand, Ander Thompson, Lizzy Thompson, Danny Svilar and Nick Svilar; and her great grandchildren, Sebastian Thompson, Kenady Lebsack, Finley Lebsack, Braxton Piercy, Tyler Wieser, Lexi Wieser, Jake Wieser, and Mya Wieser.

She was preceded in death by her parents, Henry and Mary Dutra; her husband, Richard Thompson, in November 19, 2012; her sister, Helen Dutra Lapointe; her brothers, Henry Dutra Jr, Francis Dutra, Joseph Dutra and Ramond David Dutra; and her son-in-law, Mike Svilar.

Memorials may be made to the Diabetes Foundation or St. Margaret's School in care of David Funeral Home.

Services are under the direction of Davis Funeral Home. On-line condolences for the family may be made at www.TheDavisFuneralHome.com.